Two Illegal Chainsaw Operators Handed 6 Months Imprisonment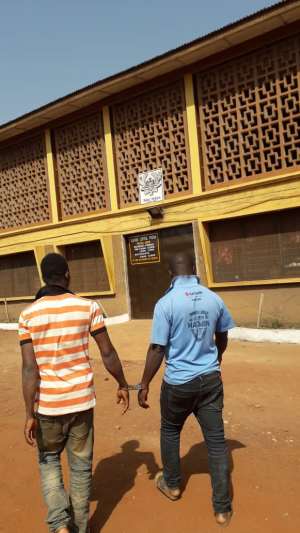 Three Illegal chainsaw operators have been sentenced to six (6) months imprisonment by Hon. Jojo Hajan of the Sunyani Magistrate Court 'A' in the Dormaa Municipality of the Brong Ahafo Region. The illegal chainsaw operators were arrested around 1:30am in the reserve nearer to a community call Kwadwomo around Nkrankwantae.
The two (2) suspects were arraigned before court by the police CID Prince Oppong after being charged for the crime.
According to Mr. Nifaasoyir Christians, the District Forest Manager, the activities of the illegal operators who are said to be operating both day and midnight are fast depleting the forest and causing the forest to lose its shape. From August last year, sixteen (16) illegal chainsaw operators has been arrested and sentenced.
Mr. Nifaasoyir Christiantus; the District Forest Manager who spoke to the modernghana correspondent in an interview said, they got hint of reports that some illegal chainsaw operators were illegally operating in the forest.
"On our usual patrols in protecting the Mpameso forest reserve on Saturday 19th January 2019, my patrol team saw three (3) suspects whose names were given as Mohammed Alhassan, Prince Damoah and Essuman. The suspects were busily carrying lumber in the heart of the forest which they have illegally fell and sawn. In the attempt to apprehend them, one of the suspects managed to escape the arrest."
The illegal chainsaw operators were apprehended and handed over to the Sunyani Police division.