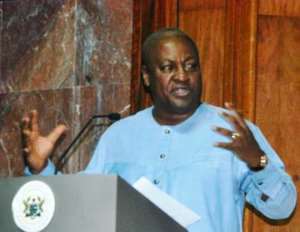 John Dramani Mahama
In his so-called Open-Letter to Mahama, subtitled "Stick to Your High Standards" (Modernghana.com 1/21/19), Dr. Christopher Kwaku Yeboah Arhin smugly claims to be "a floating voter," but the writer leaves very little to his reader's imagination vis-à-vis the glaring fact that he is an out-and-out pathological closet Asante nationalist and a sub-ethnic chauvinist who cannot abide a democratically elected government that is headed by even a genius and visionary leader of Akyem descent. The critic proves this by smugly and shamelessly observing that in 1992, 1996 and 2000, when Asantes were Presidential Candidates of the New Patriotic Party (NPP), he had absolutely no qualms in voting for Prof. Albert Adu-Boahen and Mr. John Agyekum-Kufuor, respectively.
Then, again, predictably, Dr. Yeboah Arhin had absolutely no problem, whatsoever, voting for then-incumbent President JA Kufuor in 2004. Somehow, in 2008, when it was the turn of Nana Addo Dankwa Akufo-Addo, all of a sudden, the critic/floating voter decided to play a "Kwadwo Mpiani" by deciding that he had had enough of the rank corruption that allegedly characterized the Kufuor-led government of the New Patriotic Party, so he decided to vote for then-Candidate John Evans Atta-Mills, late, the Fante-descended Presidential Candidate of the then-main opposition National Democratic Congress (NDC). Now, what is important to point out here is that Dr. Yeboah Arhin does not make a single observation or remark regarding why he felt that an Akufo-Addo-led New Patriotic Party government was apt or liable to be rankly corrupt as the 8-year or two-term tenure of Mr. Agyekum-Kufuor which, by the way, at the time was universally touted as the most progressive Fourth-Republican government.
Well, the critic/floating voter says that he "alternated" his ballots in 2012 and 2016, so we can safely assume that what he means is that in 2012, in spite of the shameless public support that the NDC leadership gave Mega-Thief Mr. Alfred Agbesi Woyome in the aftermath of the 2008 Presidential Election, nevertheless, Dr. Yeboah Arhin decided to throw his electoral heft behind Mr. John Dramani Mahama, the man he has now come to personally believe is the proverbial man for the season. But, then, somehow, by 2016, the critic/floating had arrived at the rather strange and gratuitous conclusion that Nana Akufo-Addo was worth a try, only to reverse course barely two years into the latter's Administration by concluding, after all, that in retrospect, he had wasted his ballot in the 2016 Presidential Election.
What is really interesting here, to tell the critic/floating voter the truth, is that Dr. Yeboah Arhin predicates at least part of his flap against Nana Akufo-Addo on the fact that of the latter's having fielded some 111 appointees into his cabinet, relative to some 84 cabinet appointees that had been named by former President John Mahama – I hope the critic/floating voter counted the whimsical creation of the portfolio of Power Minister in medias res. Here, Dr. Yeboah Arhin, either deliberately or conveniently fails to account for the scandalous fact that a remarkable percentage of the Mahama cabinet appointees, who also served as Members of Parliament, were illegally paid double salaries, which clearly means that in reality, the budgeted salary payout for the Mahama cabinet appointees was way over and above that of the Akufo-Addo cabinet appointees.
Put in simple English, or plain terms, what the foregoing means is that, in terms of salary payouts, President Mahama's cabinet was actually about one-and-half times the size of the Akufo-Addo cabinet. I would leave the details of a comparative analysis of the number and trend of corruption scandals that rocked both the Akufo-Addo and Mahama governments for those observers and critics on the proverbial Ground Zero to determine. For now, what I find to be grimly and outrageously fascinating about Dr. Yeboah Arhin's analysis, is the critic/floating voter's assertion that former President Mahama left a far more robust and qualitative economy and a better employment rate than his successor. Maybe Dr. Yeboah Arhin may want to check into something called the GYEEDA Scandal. And GUBAH, SADA and Asongtaba scandals as well.
Our elders have said that one may rabidly hate a duiker/antelope, but it is only an honest-to-God man who may in good conscience decide to make an exception of the graceful gait or running style of this ruminant resident of the sylvan sphere. But that bona fide Ghanaians of Akyem descent, among the foremost or best educated Ghanaian citizens, were deliberately marginalized by previous governments, including governments sponsored by the New Patriotic Party, over the past 40 years, does not seem to have meant anything to Dr. Yeboah Arhin who also, quite naturally, deliberately and conveniently fails to recognize the stark fact that the overwhelming majority of the members of the Akufo-Addo cabinet and other executive positions, by the way, are the "Asante Brothers.," and not the relatives and cousins of the President. And "Asante Sisters," too! As well as, of course, brothers and sisters from non-Akan ethnic groups and not only residents of Mr. Mahama's "Galamsey Capital of Ghana."
*Visit my blog at: kwameokoampaahoofe.wordpress.com Ghanaffairs
By Kwame Okoampa-Ahoofe, Jr., PhD English Department, SUNY-Nassau Garden City, New York January 20, 2019 E-mail: [email protected]