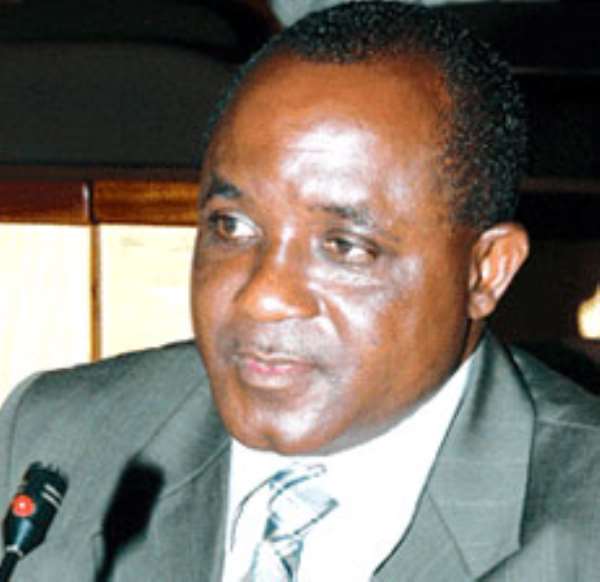 The busted Member of Parliament for Nkoranza North, Hon Eric Amoateng, allegedly has a special talent that qualified him to be a special recruit for drug business. Daily Guide's unimpeachable sources from his constituency say, Hon Amoateng, who was a teacher, was at the same time a magician, who had mastered in special tricks, to enable him pull a fast one on anybody, just by special antics.
This quality, was said to have endeared him to big Ghanaian drug bosses and barons, who recruited him into the business, as an agent, to use such 'tricks' to facilitate the trafficking illicit drugs, from one point to the other.
Hon Eric Amoateng is touted as somebody, who, on the spur of a moment, can pull a non-scientific trick, to make a tine of milk become, say onion or chocolate, and vice versa. His special ability to 'trick' people into believing that a real object is an imaginary one, and vice versa, made him an instant choice, as an agent for drug-trafficking. He is said to have practiced his adopted profession from village to village where people paid to see him.
According to sources, Hon Eric Amoateng later enrolled at the University of Ghana's, School of Theology, to read religion, in order to refine his magical talents, purposely for the drug business; that is, to be able to out-wit security officers, at various airports. His rise to fame started about seven years ago, when he got into the drug business, and became an instant millionaire.
Hon Eric Amoateng, who had his teaching certificate from the Nkoranza Teacher Training College, abandoned the classroom to concentrate on his new-found job. His wealth made him a preferred candidate for a chief, at Amoma, in the Kintampo South District, where he hails from. His stool name was, Nana Amoateng Ameyaw.
He might have used his chieftaincy position to enhance his well-being, but thought greater immunity was in politics, where he can go to parliament, and secure a diplomatic passport, to enable him push larger drugs, to the developed world. He is said to have bullied his way to parliament and bought everybody, on his way to parliament.
After quitting as chief of Amoma, he adopted a town, named Bomini, in neighbouring Nkoranza North Constituency as his hometown, to pursue his agenda of going to parliament. His candidacy was fiercely resisted by the people of the constituency, because some thought he was not an indigene of the place, while others suspected him to be part of a drug syndicate. He fought hard to become a candidate of the ruling New Patriotic Party (NPP), whose genuine members were denied the opportunity to become the party's parliamentary candidates. He is said to have presented two brand new pick-ups, to the headquarters of NPP, as some of the incentives to allow him stand on an NPP ticket.
The conflict over his eligibility to contest the Nkoranza North seat came to a head, when a concerned citizen from Yefri, in the same constituency, challenged Eric Amoateng's candidacy, at the Sunyani High Court, in November, last year. In his statement of claim, the concerned citizen, Collins Antwi said, the plaintiff does not hail from the constituency, and that he has all his property in the Kintampo South and Nkoranza South Constituencies.
"Hon Amoateng has never contributed, in cash or in kind, to any developmental project in Bomini, the place he claimed to hail from", Antwi said. According to Antwi, Hon Amoateng cannot be credited with assisting anyone in the constituency since he is only known in Kintampo South and Nkoranza South constituencies. According to Antwi, Hon Eric Amoateng has a suspicious character, and therefore, a person contesting for such a high public office, should be somebody of a high moral standing without blemish.
"The defendant has not comported himself, in such a manner as to vie for the high office of honour as he had not been truthful in the declaration of his date of birth, in various documents, that he had presented to various institutions, or establishments", the concerned citizen declared, in his statement of claim.
After the first hearing, at the Sunyani High Court, where Eric Amoateng was represented by Nana Obiri Boahen, current Brong-Ahafo regional chairman of NPP, the case was watered down, and eventually, withdrawn from the court.