Ghana Baptist University College Holds 10th Congregation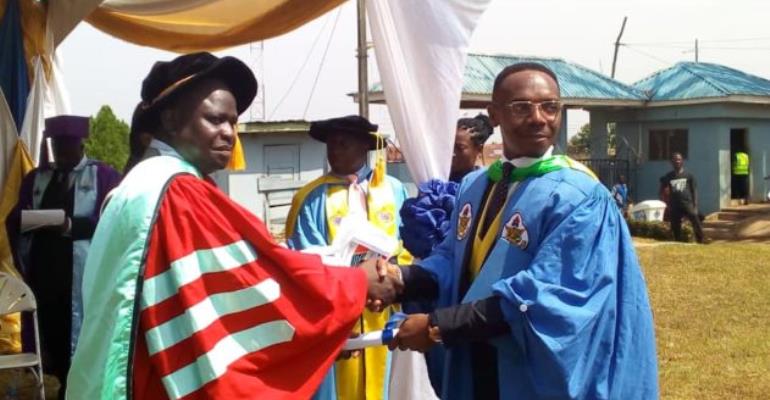 The Ghana Baptist University College (GBUC) on Saturday held its 10th Congregation with a call on government to ensure quality education from primary to tertiary levels.
The president of GBUC Rev. Dr. Yaw Adu-Gyamfi who made the call, also urged the leadership of the current government to put in place pragmatic measures to ensure the provision of quality Senior High School Education in addition to the free access to the second cycle education
Held at the Abuakwa campus of GBUC in the Atwima Nwabiagya South District the ceremony was on the theme; "Sustainability of Private Universities in Ghana: Role of key stakeholders"
Rev. Dr Adu-Gyamfi disclosed that a total of 332 student comprising 117 males and 115 females received Masters Degree, Diplomas and bachelor's Degrees in various disciplines and levels.
247 students were awarded bachelor's degree in business administration, 24 received Masters of Art in Ministry, with 61 getting diploma certificates.
He added that 31 of the students graduated with first class, 71 with second class upper, 24 with third class and one student landing a pass mark.
Rev. Dr. Yaw Adug-Gyamfi advised the graduating students to shun the attitude of acquiring quick money and work hard to serve their country.
For his part the president of Ghana National Chamber of Commerce and Industry (GCCI) Nana.Dr Appiagyei Dankawoso the first appealed to the government to support Private Universities.
He also urged business entities and other stakeholders in the country to provide financial assistant to private universities to boost their capacity in the training of the youth for the job market
He advised the granduaunts to embrace entrepreneurship and become employers rather than job seekers.