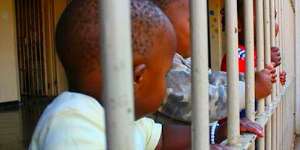 Little children behind bars
It hasn't been an easy task for giving dignity, hope, and justice to prison communities in Africa. For achieving these goals politicians, senior prison and criminal justice personnel should be informed how to put the power of the law in the hands of the poor.
Once these goals are in charge of the legal right for the poor African inmates is secured.
Training and education
The only way to achieve the above mentioned positive goals can be achieved by providing high-quality legal advice, training and education to those living and working in prison while empowering those most in need of justice to access it for themselves.
Legal education; training and equipping a growing community of Justice changemakers, outworked through the following:
Paralegal training
Supporting undergraduate
Legal studies
Supporting postgraduate
Legal studies
Furthermore, providing high quality, affordable and accessible legal services to the most marginalized, outworked can be covered through the following:
Prison-based legal clinics
Legal awareness sessions
As a consequence we need professional secondment opportunities for senior prison and criminal justice personnel, equipping senior leaders to ensure that prisoners' rights are upheld. The education program should contain;
Leadership training
Secondment programs
But writing a training and education program is one thing but getting the funds for it is another chapter. The only thing we can do is to ask those who are committed with poor Africans to donate to help add beautiful colours to the lives of these inmates, as they will not only become free but also responsible people in the society through our support.
But after inmates are set free they have to be educated in order to give them the highest possibility to cope with life.
An example of an African Institute for prisoners
The Nigerian Centre for Prisons Reforms and Inmates' Right (CENPRIR) was incorporated on June 29, 2004. It's a non-profit making, human rights and non-governmental organization based in Abuja Nigeria; which task is to help prisoners live a normal life and ensure the deprived do not become prisoners.
After many discussions with my dearest African friend Isowo Smart G. of CENPRIR, we decided to write several articles on our blog "Secrets of Aids and Ebola Facts Journal" in order to try to be of help for raising funds for educational and training programs.
https://secretsofaidsandebola.blogspot.com/search/max-results=8?q=CENPRIR
CENPRIR a Nigerian example of prisons
Today over 7,000 poor inmates are still trapped in an already overcrowded and dehumanized prisons across Nigeria, simply because of the inability to pay fine to regain freedom.
This includes voiceless innocent children imprisoned with their mothers, youths who should have been in school but arrested on the street for hawking. Breadwinners who are minor offenders, sick and handicapped who are struggling to adapt to the hostile prison conditions.
Sadly enough, over 80% of these inmates have spent a third of their time already in prison and in hopelessness. However, the few we have helped and rehabilitated are adding value to their communities.
Innocent African prisoner's dilemma or parole deal
The African innocent prisoner's dilemma, or parole deal, is a detrimental effect of a legal system in which admission of guilt can result in reduced sentences or early parole.
Related article: PRISONS INMATES RIGHTS AND AN OPEN MESSAGE TO PRESIDENT BUHARI
When an innocent person is wrongly convicted of a crime, and in Africa, there are thousands of innocent prisoners who arrived there for instance because of corruption, there is an enormous lack of all legal systems to help him to prove his innocence.
But the system which needs the individual to admit guilt, for example as a prerequisite step leading to parole, punish an innocent person for his integrity, and reward a person lacking in integrity. Unbelievable in our western society but the order of the day in Africa.
THIS HAS TO BE STOPPED IMMEDIATELY!!!
There have been many cases where innocent prisoners were given the choice between freedom, in exchange for claiming guilt, and remaining imprisoned and telling the truth. Individuals have died in prison rather than admit to crimes which they did not commit.
It has been demonstrated in Britain that prisoners who freely admit their guilt are more likely to re-offend than prisoners who maintain their innocence, but that isn't Africa. For all those innocent prisoners I wrote the poem "White Negro" and it calls upon every human being to help African prisoners by donating for education and training programs.
For more information about how you can be of help to the poor in prison secure freedom please feel free to contact:
https://www.finelib.com/listing/Centre-For-Prisons-Reforms--Inmates-Rights/39098/