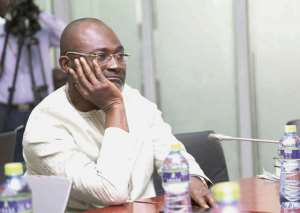 Kennedy Agyapong
A member of US Congress, Henry C. Hank Johnson is asking the United States Government to ban Member of Parliament (MP) for Assin Central Kennedy Agyapong, from entry into the US.
He also want a ban on Mr. Agyapong access to the U.S. banking system and his businesses, and any other appropriate and applicable sanctions regarding his role that directly or indirectly caused the death of investigative journalist Ahmed Hussein-Suale.
In a letter to Mike Pompeo the US Secretary of State and cited by ModernGhana, Mr. Johnson said the US Government should provide Federal Bureau of Investigation (FBI) support for the Government of Ghana via the Office of the Legal Attaché at the U.S. Embassy in Accra to unravel the perpetrators.
Mr. Johnson is further asking the US Government to conduct an independent assessment of the murder and the quality and scope of the Ghanaian government's investigation into the murder of Ahmed.
Ahmed Hussein-Suale who was gruesomely murdered was one of Tiger Eye PI journalists whose photographs the Member of Parliament (MP) for Assin Central, Mr. Kennedy Agyapong circulated in his appearance on NET 2 TV ahead of the screening of 'who watches the watchman' anti-Anas video documentary.
Ahmed was shot three times, twice in the chest and once in the neck by gunmen riding motorbike late Wednesday night, January 16, 2019 at Madina in Accra while driving home.
Read Full Copy of the Letter Below: