The Rise Of Dagbong, The Lion Has Come Home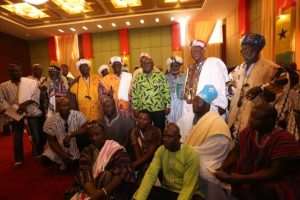 The Dagbong Kingdom has been one of the oldest, if not the oldest kingdom of modern day Ghana, tracing its ancestry in the country to as early as the 13th -15th centuries AD. It remained one of the strongest until the eruption of the Abudu-Andani Gates.
Even with this intra-ethnic division, the Kingdom remained strong until it was thrown into an abyss in the imbroglio of 2002 that resulted in the murder of the then Overlord in his throne. May the soul of Yaa-Naa Yakubu Andani II and all departed Yaa Naa's continue to rest in peace!
One thing outsiders may not know is, the Abudu and Andani gates represent royal families with the same ancestry, and every Dagomba is born into a family that has root to either of the families. That is, whether you are a royal or not, you, through your family, are a member of one of these gates.
Since the unfortunate mishap of 2002, I have chosen never to make any public pronouncements on the issue, even though I was in Yendi as an adolescent boy throughout the period of the unfortunate event. Looking back, as Umar Ibn al-Khattab said "I have never regretted my silence, as for my speech I have regretted it many times", I do not at all regret my silence on the issue. I have decided to "say something" now because I believe we have come to the end of the road, and our kingdom is back on track. I, like every Dagomba, belong to one of the factions and I do not shy aware from it, but I have chosen to side with peace. I have on countless occasions reached out to youth from both gates who post provocative statements on the Dagbong issue on social media. In many of those instances, I received insults in return. In other instances, I was simply ignored. In a few cases, the persons involved embraced my call for restrain. In fact, I once declined an invitation to be an executive member of a youth group that was to be formed by some youth belonging to my faction. I discouraged the formation of such groups and called on them to rather let us form a united Dagbong Youth Front. I did not hear from them again. I think we need this now than ever.
We have been in this tragedy and its domino effects for the past sixteen years. The end of it came with the performance of the outstanding funerals of the late Dagbong Overlords, Yaa-Naa Mahamadu IV and Yaa-Naa Yakubu Andani II and culminating in the selection of the Yoo-Naa (Chief of Savelugu) as the next Yaa-Naa.
I want to congratulate the Yoo-Naa on his selection as our next Yaa-Naa. I want to call on both factions, particularly the youth, to let us embrace our new King in the interest of Dagbong. The choice of a new Yaa-Naa, we all knew was not going to be an outsider but someone from either side. In furtherance to this, I had plunged myself into tabula rasa to throw my support behind whoever was chosen, if that was in accordance with the guidelines in the roadmap to peace in Dagbong. I am sticking to that vow! I, hereby, declare my unflinching loyalty to Naa Abukari Mahama, and all Yaa-Naa's that will come after him! My loyalty is to the Skin! This is no victory for any faction, it is victory for Dagbong!
It is worth noting that, the Otumfuor-led roadmap was not at all in the absolute favour of either of the two gates. In fact, both sides at one point or another inveighed against some aspects of the roadmap. It took a lot of compromises and the genuine desire for peace by both sides to work with the road map. Our elders from the two sides deserve a lot of commendations for taking the bold steps above their parochial interests. To the Bolin-Lana and the Kampakuya-Naa, be assured that when this unity is celebrated by our children a century later, history shall make special mention of your names and treat them with utmost respect. To the Asante-hene, Otumfuor Osei Tutu II and his team of mediators, Dagbong will forever be grateful for your efforts. We blamed politicians for fueling this conflict over the years. I think the politicians, particularly our current and our former presidents deserve some pat in the back. The Akuffo-Addo government deserves commendations, even as we keep in mind that his governments' efforts were built on the back of processes started by previous governments. To our security agencies, despite the few security hitches, you did a wonderful job, generally. I believe we have embraced peace now, though I still see the "prophylactic" curfew on the Yendi town a timely intervention. We still need your partnership as we move forward on our new path. Fellow Ghanaians, we thank you for your patience and prayers. We know that, at some point, the Dagbong issue became so irritating to you because government was pumping a lot of the taxpayers' money to maintain the peace, yet peace was eluding us. Thank you for accommodating us during those disturbing moments.
Arise, youth of Dagbong! Going forward, let us dissolve the respective youth groups formed to further the courses of the respective gates. Let us reach out to one another, and deliberate on the best ways to fast track development in our part of the country, considering all the developmental opportunities we have missed in the past sixteen years.
May we never return to those dark days!
Together, we move forward!
Together, we grow stronger!
Long Live Dagbong!
Long Live Ghana!
Long Live Humanity!
DR. HABIB M. IDDRISU
(Son of Dagbong: Born in Sang, Raised in Yendi, Resides in Tamale)