Ghanaian Peacekeepers In South Sudan Awarded UN Medal
...Ghanaian Troops Deployed In Aweil And Serving With The United Nations Mission In South Sudan Have Been Awarded Peacekeeping Medals In Recognition Of Their Work In The War-Torn Country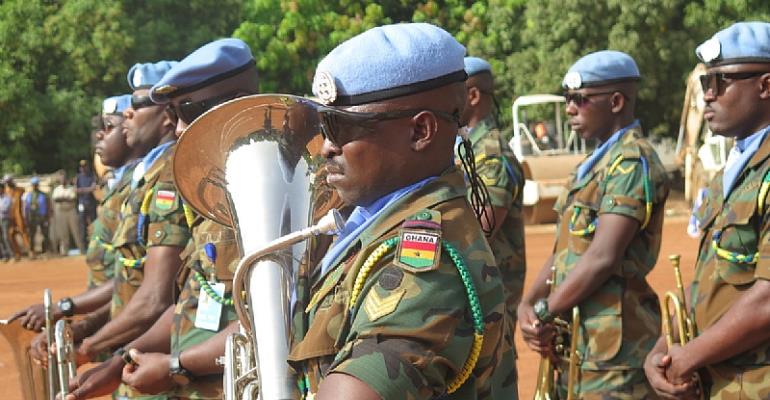 A total of 150 worthy servants in the name of peace received the prestigious pieces of metal from Brigadier General Wang Chuanjin, the peacekeeping mission's commander in South Sudan's Sector West, after completing 90 days of service.
Raymond Henry, one of the happy recipients, enjoyed having his efforts acknowledged in this way.
"I am very happy that UN has appreciated and recognized our contribution by giving us this medal", he said.
For Corporal Masupe, who is serving with a peacekeeping mission for the first time, it was also a memorable moment.
"I feel appreciated having received this medal for working for an African mission," he says.
On behalf of the Special Representative of the Secretary-General to South Sudan, Brigadier General Wang Chuanjin congratulated the Ghanaian peacekeepers for the tremendous job done in Aweil.
"Since its arrival in 2018, this company has fulfilled its assigned tasks professionally and to the admiration of both military and a civilian members of the army fraternity," said the high-ranking military man, mentioning some of its achievements:
"For example, they have conducted robust day and night patrols, mended observation posts in the camp and been on 24-hour duty at the Aweil airport," says Chuanjin.
The Ghanaians have also been escorting civilian staff on long distance patrols and on other duty travels outside Aweil town.
Ghana, the 9th largest UN troop contributor, currently deploys more than 1,100 military and police personnel to South Sudan.