Yendi: Bawumia Attend Ya Naa's Funeral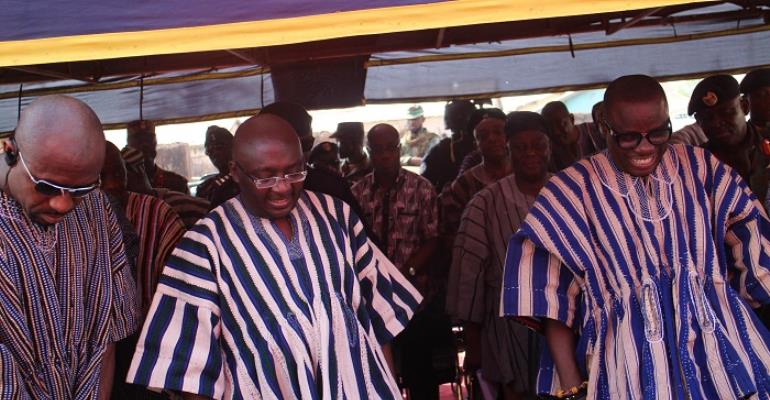 The Vice President, Dr. Mahamudu Bawumia visited Yendi to witness the climax of the final funeral rites of the late overlord of Dagbon, Yaa-Naa Yakubu Andani.
Dr. Bawumia was accompanied by the Minister for Defence, Dominic Nitiwul; Inspector General of Police, David Asante-Appeatu; National Security Minister, Kan-Dapaah; Northern Regional Minister, Salifu Saeed and other government appointees.
Nana Oppong Kyekyeku, Chief of Ashantis in the Northern Region, led the Otumfuo delegation headed by Sumankwaahene Baffour Asabre Yekunjawaa-Su and his entourage to the Gbewaa Palace to pay a courtesy call on the regent of Dagbon, Kampakuya Naa.
Some prominent Dagbon chiefs also visited the capital seat of the Dagbon kingdom for the final funeral rites of the late Dagbon overlord. There has been a tight security in Yendi ahead of the funeral.
The regent of Dagbon, Kampakuya-Naa Andani Yakubu Abdulai, performed the circumambulation of the local deities to complete the funeral process.
The Kampakuya Naa will ride on a horse and go around the old Gbewaa Palace and the Katini House three times to signify the official end of the funeral of his later father, Uaa-Naa Yakubu Andani II.
The funeral committee chairman of the Andani family, Tong Lana Yakubu Andani, told DAILY GUIDE that the Yo-Naa, current regent of Dagbon, Kampakuya Naa and Tampion Naa, are those interested in becoming Yaa-Naa of Dagbon.
He called on all the interested candidates to accept the final outcome of the oracles when the new Yaa-Naa is chosen.
On 18th January, 2019, the accredited elders of Dagbon would enter the sacred seclusion to consult the traditional oracles for the selection of a new Yaa-Naa.
The Committee of Eminent Chiefs, chaired by Otumfuo Osei Tutu II, has urged the people of Dagbon to cooperate to ensure the successful conclusion of the funeral in accordance with the roadmap to bring peace to Dagbon.
Source: Daily Guide