Where is our compensation?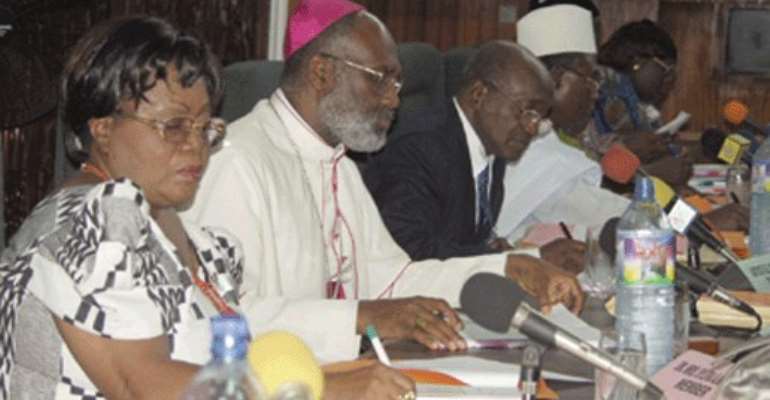 .... Victims of Human Rights violations cry THOUSANDS of former human rights victims in Ghana are still waiting for compensation funds – almost two years after they were promised by the National Reconciliation Commission, and decades after the crimes were committed. The NRC was set up in 2002 under the National Reconciliation Act (Act 662), to establish an "accurate and complete historic record of violations and abuses of human rights" in Ghana before 1992 and to make recommendations for institutional reforms.
Between September 3, 2002 and January 13, 2004 the Commission collected statements from 4,240 Ghanaians – thousands of accounts of brutal torture and human rights abuses, many of which were carried out under the two Rawlings regimes; witnessed or endured beatings, killings, abductions, detentions, genital mutations, illegal seizures of property and other ill treatment. An initial report, documenting the results and recommendations of the first 3,114 statements, was published in October 2004, although the victims themselves have yet to hear anything back from the Commission, and there have been no indications as to when the promised compensations might eventually be disbursed, as one former victim explained to this newspaper.
"It is not the money that's the issue," Alex Hamah told The Statesman. "It is the simple question of justice, and justice must be done."
A veteran trade unionist who stood as an independent presidential candidate in the 2004 contest, Mr Hamah was convicted of treason in 1974 and sentenced to death. An amount of ¢56,000 (now equivalent to around US $40,000), which he was alleged to have given as an induction for support in his 'plot,' was confiscated from him at the time.
In 1978, Mr Hamah was released from prison and granted a pardon, but never had his confiscated funds returned. He was one of the first victims to appear before the NRC in 2002, but has heard nothing back from the Commission in the over three years since his hearing.
The NRC report said of Mr Hamah's case: "A pardon implies that all penalties imposed for the offence are nullified… It stands to reason, therefore, that money confiscated as a result of the conviction ought to be returned to its owner when the conviction is nullified."
However, no information has been communicated back to Mr Hamah, and there has certainly been no sign of the money.
Although Mr Hamah was speaking to The Statesman in a personal capacity, he said his grievances nonetheless reflected those of the thousands of other victims who are also being kept in the dark. "The Commission should have at least written to us to inform us of their progress; but we have heard nothing at all," he said.
"Nobody knows the fate of the Commission – for all we know they could be doing nothing at all."
"It is the same as be ing in jail," he said. "We are still victims – it is just another type of victimisation."
As the report notes: "No reparation, monetary or otherwise can restore victims (direct or indirect) to their status quo ante. It is also a fact that some victims find monetary reparation rather offensive, as it appears like payment for their suffering."
Nonetheless, of the over 3,000 victims' responses coded in the October 2004 report, about 89 percent of statement makers indicated compensation as one of their reasons for petitioning the Commission; and "money compensation will be disbursed" the report promised:
"In proposing the amounts to be paid, the Commission has tried to maintain a balance between assuaging the pain of victims and the reality of the Ghanaian economy (i e ability to pay and to do so promptly). This will enable victims to have closure and to carry on with their lives," it said.
However, it is precisely this closure that human rights victims have still not achieved, as Government promises of compensation fail to evaporate. Mr Hamah said he has made enquiries of the responsible government officials, including requests for updates from the Ministry of Information. "But I have never seen anything practical," he said.
Hamah described the NRC as a "political gimmick" which, he said, made the government look active and responsible in the eyes of the international community, and had now served its purpose.
He said a government contact had assured him that the issue of reparations would be addressed in the 2006 budget – but there is no mention of provisions for the thousands of victims in that document.
Proposed amounts of compensation start at ¢30 million for "loss of life resulting from human rights violations – killings, disappearance, etc," and the overall cost of compensation runs into billions of cedis.
Reached by The Statesman for his response to the apparent failure of Government to keep its financial promises, Finance Minister Baah Wiredu spoke of the complex internal and legal sequences which had to be gone through at the Ministry of Justice before budget recommendations could be made.
Attorney General Joseph Ayikoi Otoo, however, was unavailable for comment – and his press relations officer was unable to provide any information.
The 1992 Constitution indemnifies all military personnel from judicial scrutiny, making it impossible for those wronged to have any legal redress. Yet in 2001, the newly-elected President John Kufuor faced widespread demands for Government to address past human-rights abuses. To get around the constitutional impediment, the NRC was set up as a forum for victims to tell their stories.