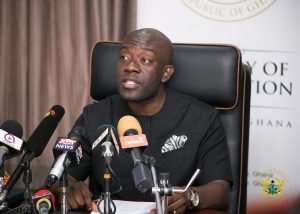 Government says it is not pleased with the seeming politicization of the ensuing conversations over the challenges with gold dealership firm, Menzgold.
According to the Minister for Information, Kojo Oppong Nkrumah, attempts to make political capital out of the situation will not help in ensuring that the challenges are addressed.
Speaking at a media briefing in Accra on Thursday, the Information Minister said, "Government expresses displeasure at the partisan politicization that has appeared to be characterizing the discussions on the Menzgold saga, and wishes to reiterate its earlier sympathies expressed to customers and clients of that company."
He emphasized that the government expects as many of the company's customers to take legal action to help them retrieve their locked up cash.
Menzgold Company Limited has not been able to pay up the investments of its many customers over the past four months, and has failed to honour its payment schedules.
It however continues to give assurances that it will pay all customers their monies.
As the many customers of the company continue to grief over fears they cannot retrieve their funds , a political twist has been given to the situation with members of the NDC and the NPP accusing each other of being responsible for the development.
The NDC's Director of Communications, Sammy Gyamfi on Wednesday said the government gave Menzgold boss, Nana Appiah Mensah due to recognition and propped up his reputation that enabled him to build public trust and get many more people to invest with Menzgold which some now describe as a Ponzi scheme.
The NPP also among various communications claim John Mahama and other officials in the previous government either invested or benefited from the largess of the now beleaguered businessman.
They also accuse the former president of issuing a diplomatic passport to the CEO of the company, but Kojo Oppong Nkrumah has condemned such actions by the political parties.
He said the government expects the country's security agencies to activate all rights they have to find persons accused of being responsible for the woes of the company and its customers and ensuring that a full resolution is gotten.
"Government remains focused on the security agencies that having received reports from customers, will employ all the powers of the state including the necessary warrants, possible extradition and so on to find the accused persons and to ensure that a proper resolution of that matter is adhered to," he said.
He reiterated that "political parties should refrain from desperate attempts to score non-existent political points" from the situation.
Meanwhile, a government delegation is still in the United Arab Emirates to find out if there is a chance to extradite CEO of Menzgold Nana Appiah Mensah who was reportedly arrested in Dubai in December on a separate offence to Ghana.
–
Source: Citinewsroom.com | Ghana