"Nobody Will Use Me Or My Office For Political Prosecutions" – Martin Amidu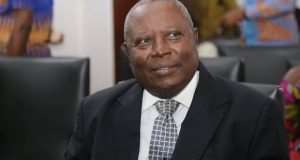 The Special Prosecutor, Mr. Martin Amidu, has refuted claims that his office is being used as a tool for political witchhunts by the Akufo-Addo administration.
In an article where he commented on the politicisation of crimes, Mr. Amidu responded to claims his investigation of Bawku Central MP, Mahama Ayariga, was being done on a partisan basis.
He stressed that "nobody will use me or my Office for political investigations or prosecutions, while I remain the Special Prosecutor."
My track record attest to this fact. I bowed out as the Attorney General and Minister of Justice in January 2012 because I refused to be used for the prosecution of fellow citizens purely on party political grounds. There was a time I insisted on prosecuting President Mills' cousin on three dockets for corruption, breach of procurement procedure in the purchase of motor bicycles for the Ghana National Fire Service, and breach of procurement procedures and laws in the procurement of regimental band equipment for the Ghana National Fire Service.
Mr. Amidu made reference to an article that suggested that Mr. Ayariga was going to be the focus of an impromptu prosecution following questions surrounding the effectiveness of the Office of the Special prosecutor after one year in existence by former President Jerry John Rawlings.
Though Mr. Ayariga has not been the subject of any arrest, Mr. Amidu did note that the Bawku Central MP has been invited for questioning over the procurement of an ambulance for the Constituency which was supported by the Bawku Municipal Assembly; and the health administration of Bawku.
The Special Prosecutor also said Mr. Ayariga had been questioned over an urgent letter that was written by his office to the Commissioner-General of the Ghana Revenue Authority.
Mr. Amidu said the Economic and Organised Crimes Office (EOCO) and his outfit have been investigating the Mr. Ayariga for "obstruction of investigations and other suspected offences."
Mr. Ayariga was also known to be under scrutiny on suspicion of commission of corruption and abusing his office by importing three used Toyota Land Cruiser V8s into the country.
Non-interference from president
So far he says his work has not been hampered by President Nana Akufo-Addo, who has kept "his promise of giving me a free hand in fulfilling my mandate under the Office of the Special Prosecutor Act, 2017 (Act 959)."
Mr. Amidu also revealed that he was investigating another breach of the Public Procurement Act which affects his office "directly".
In this case, he said, "suspects have failed or refused to report because they think they have connections in the Government."
But he assured that "no political party card can act as an insurance against investigating and/or prosecuting any offences" that fall under his mandate.
–
Source: Citinewsroom.com | Ghana