Ensure Persons Who Killed Ahmed Hussein-Suale Are Arrested – GJA To President Akufo- Addo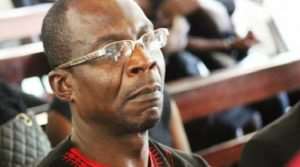 The Ghana Journalists Association (GJA), has asked President Akufo- Addo to ensure that persons who killed the investigative journalist, Ahmed Hussein-Suale are arrested.
Ahmed Hussein-Suale, a member of Anas Aremeyaw Anas' Tiger Eye PI, was killed on Wednesday night by some unknown gunmen.
Addressing the press on Thursday, President of the GJA, Affail Monney, called on various stakeholders to ensure that justice is served.
"Our information indicates that the unknown assailants did not take anything from Ahmed except his life. Delivering two bullets into his chest. One in his neck at close range. The GJA is totally devastated by this heinous crime. The elimination of Ahmed poses as Ghana's version of the infamous killing of Saudi journalist, Jamal Khashoggi. This is indeed a sad day for not only the media fraternity in Ghana, but the country as a whole. This is not the first time a journalist has been murdered in cold blood.
"We appeal to his Excellency, Nana Akufo Addo as the head of the executive arm of government to take a personal interest in seeing to the end of this matter. Furthermore, we call on Parliament as representatives of the people to take actions that will instil a sense of safety not only in the media but the populace. We also call on the judiciary to deal with persons involved in such heinous crimes."
MFWA demands prompt investigations
The Media Foundation for West Africa (MFWA) has also called for prompt investigations into the killing.
The Media Foundation for West Africa in its statement condemned the killing and urged the police to promptly investigate the matter and ensure that the perpetrators are brought to book.
Ahmed Hussein Suale's journalistic work with Anas Aremeyaw Anas has often seen him go undercover with his identity not known to many, but he was recently exposed by Assin Central MP, Kennedy Agyapong in the aftermath of the #Number12 exposé on corruption in Ghana football. This incident coincidentally occurred months after Assin Central MP exposed him and said he [Ahmed] was wicked and must be beaten if he visited the premises of his company. –
Source: Citinewsroom.com| Ghana