Western North Region: quality leadership necessary - PM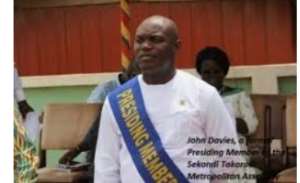 Government is yet to announce appointees including Regional Ministers for the newly created six regions in the country.
But, the Presiding Member for Effia-Kwesimintsim Municipal Assembly in Takoradi John Davies, has identified quality leadership as the necessary driving force required to push development to Assemblies making up the newly created Western North Region.
He said the partitioning of the Western Region, which gave birth to Western North Region was very laudable and encouraging but must not be viewed by citizens as the only yardstick to facilitate or guarantee development.
Speaking in an interview, the vetran Assembly Member for Anaji Electoral Area in Effia- Kwesimintsim Municipality, holding two decades experience in local governance, identified leadership as the bedrock of everything in governance "It all boils down to leadership" John Davies said.
He explained that there were factors that must be considered by central government, citizens and all key actors in local governance when rolling out new Regions, Metropolitan , Municipal and District Assemblies.
These factors, he said included innovation and creativity, geographical consideration for revenue mibilization, and above all human resource management where quality leadership would come in to play that critical role as the driving force in championing development for the people.
He said "Although these are the main factors that needs to be considered, active citizens participation will make the process smooth and a shared responsibility".
According to John Davies, development often multiplied during the creation of new Regions, Metropolitan, Municipal and District Assemblies as well as Electoral Areas as part of decentralization programming.
He cited the Effia-Kwesimintsim Municipality where he occupies the hot seat as the Presiding Member, which has received two common funds already from central gocernment for development activities since it was created upon assumption of office by the administration of President Akuffo Addo as an example to butress this point.
Under the circumstance, he said it would have taken Sekondi Takoradi Metropolitan Assembly (STMA) which is the mother Assembly to determine how much EKMA, the newly created Assembly would have received as its share of the two seperate common funds received as a submetro for its development activities when it was part of STMA.
"Fortunately, the two Assemblies all received their share of the common fund twice and will each determine on their own the kind of projects and programmes that ought to be executed by both Assemblies in their respective areas" he submitted.
Following this, he said governance could only be enhanced through empowerment of smaller units called local government, that would be working under the broader unit called central government hence the significance in rolling out new Assemblies and new Regions to improve the process and consequently make local governance participatory and better.
Source: Daniel Kaku