'Drug Bus' Intercepted By Obuasi Police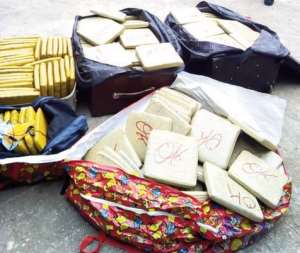 HUNDREDS of kilos of marijuana compressed into 193 parcels and stashed in four travel bags on board a Metro Mass Transit bus have been seized by officers at the Obuasi Municipal Police Command. The driver of the bus with registration number AS 5410 Z – Emmanuel Twumasi – is being questioned by the police in connection with the scheme to smuggle large quantities of marijuana in a passenger bus from Accra to the gold city – Obuasi – in the Ashanti Region.
The arrest and seizure of the drugs came after police had put the bus under surveillance following a tip-off, Obuasi Municipal Police Commander, DSP Martin Assenso said.
He told DAILY GUIDE that officers were alerted to the presence of the drugs on the vehicle around 6:30 pm on Tuesday and found 193 compressed parcels of marijuana stashed in a compartment.
DSP Assenso narrated that the bus had left the Accra suburb of Kaneshie in the afternoon on January 15 carrying passengers and loads, including the marijuana and its owner, who reportedly abandoned the drugs half-way through the journey after the bus was first stopped at a police barrier at Assin Praso.
The police chief said passengers claimed the owner, in attempt to outwit law enforcers, quickly left the bus and entered a nearby bush when the police at the Praso barrier began a search.
Investigations are still underway to unravel the uncertainty surrounding the case, but the police have held the 50-year-old driver responsible for smuggling the drugs for the time being, DSP Assenso indicated.
Source:Daily Guide