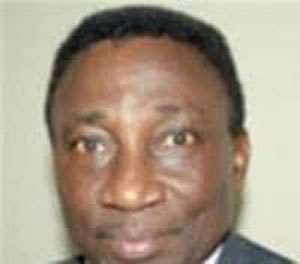 "In the end, it's not the years in your life that counts. It's the life in your years." - Abraham Lincoln
SHEIK OSMANU NUHU SHARUBUTU earns our respect as a sensible, thoughtful Muslim. He is an epitome of uprightness in humanity. He is a worthy Ambassador of Mohammed (Praise Be Upon Him – PBUH). Ibrahim Kwaku Gyasi is an Ahmadi who quickly describes the Muslim Chief Imam as a man of peace. He has a number of cases to cite to support his stand!
All things being equal at 99, Sheik Sharubutu has a greater chance of leaving this earth for another place, than a 19 -year -old. It is Allah who decides when a person dies. We pray that he enters Jannah as the Qur'an proclaims. "Nor can a soul die except by Allah's leave. The term being fixed as by writing".
Sheikh Sharubutu could have turned down the offer of a visit to his Fadama Residence by Reverend Owusu Bempah after the latter had prophesied his death. Ghana stood on the brink of disaster – a conflagration generated by religious conflict.
Some Muslim youth could not receive this prophecy lying down. They took instruments of war (machetes, clubs, stones) to the Odorkor branch of Owusu Bempah's church, The Glorious Word and Power Ministry, and caused mayhem. Efo Worlanyo, the Brong-Ahafo Regional Youth Organizer of the NDC and his deputies, Kwaku and Ronnie, congratulated the Muslim youth for their show of bravery, "We are happy because the confidence-trickster called Owusu-Bempah has terrorized this nation for a long time with his predictions which he calls "prophecy".
Some commentators even rebuked the Muslim youth for not going the Afghanistan way: they may have to go to Afghanistan and learn. Terrible! Who does not know of Boko Haram of Nigeria or Al Shabab of Sudan and the havoc they have done in those countries. Sheik Sharubutu even had the courtesy to embrace Owusu-Bempah who declared that the Sheikh was his father: So as a son of the Sheikh, he would not go quietly to him to reveal his 'dream'. And the Sheikh was reconciliatory in his welcome address; "Allah created us to speak different languages and follow different religions… (we have to) give glory to Allah and also celebrate our differences in unity".
What a noble speech by a great Ghanaian Muslim who like other Muslims believe that Mohammed (PBUH) was the last prophet. But what was Reverend Owusu Bempah's prediction? Before some audience on New Year's Eve, he insinuated the deaths in 2019 of ex -President J. A. Kufour, Mrs. Theresah Kufour, Mahamudu Bawumia and Sheikh Sharubutu. Why? So, he could not see any of his congregants dying in 2019?
Is that how the prophets of old treated their prophecies? Elijah challenged Baal and warned Ahab of years of catastrophic drought; he was 'assumed into heaven'. Talk about Hosea, Isaiah, Jeremiah.
What is the style of present day men of God? First, they give themselves many accolades, crowning them all with 'Dr', PhD holders, Reverend Dr. Dr. Nkutaden. Professor Yankah criticized this in 2001. Second, they draw attention to themselves and not to the Maker. Third, those who consult them remain saints: they can identify witches and wizards who are responsible for the agonies of those who consult them. Fourth, they almost always see doom, tragedy befalling those who consult them. If it is not a ploy to drain them of their wealth, what else is? Fifth, they live flamboyant lives: riding flashy limousines and dressing gauntly – they will tell you Jesus was a wealthy man who selected Judas Ischariot as the Exchequer of his Treasury. One could go on and on, and rest at Dubai where some of them who have given themselves titles of Bishops, Angels and the like go for holidays. The poor congregants will donate their widows' mites for these escapades!
We have seen a man of God stepping on a sick man's chest: the sick man went to hospital and died of lung cancer, the effect of respiratory failure. We have seen a girl of five years held by her hair, tossed up and down face downwards with the worshippers dancing around – all in the name of casting demons from the girl!
We have heard of a pastor asking all married women whose husbands deny them sex to come forward for prayers! A pastor whose wife has filed papers for divorce may be the one praying for the sustenance of people's marriages.
Elsewhere, the pastor commanded his congregants to eat grass – they all bowed down and ate grass like cows and sheep. The pastors know everything; if you do not listen to them, you are doomed.
And some of the churches indulge in politics. Is God NPP or NDC or CPP or NDP or PNC or what are the others? Some men of God will prophesy the winner of an election: the one whose prophecy comes true will be hailed; the other would only give excuses for the failure. The winner will get swollen headed, and will win many more souls.
When we were young, we used to have 'krufasas! Krufasa kas(0 obeyi, obeyi ama yen,) the name that comes immediately was Krufasa Issa. He could command toffees for children from the buttocks of a girl; put a mortar on his chest and ask three hefty (matcho) men to pound (anything) in the mortar. Now, the Krufasas are no more. Have all of them turned into reverend ministers? Is it sacrilegious to think like this?
What does our law say about threat of death? Section 75 of the Criminal Code 1960 (Acts 29) says: "Whoever threatens any other person with death, with intent to put that person in fear of death, is guilty of a second degree felony." Readers may debate whether the prophecy of death falls into this category.
There is a new style of preaching – shouting. And this is the acceptable style. The traditional cool sermon is debunked – to the extent that this new style is even infecting the orthodox churches. Perhaps, God is so old, he is hard of hearing.
Why should we romanticise death? We have great pity on those who have been proclaimed to die this year. They may have to go to Reverend Owusu – Bempah to cast the spell away or start dissipating their property – if they have not written their wills. They may have to resort to other mediums. The churches of Owusu Bempah will flourish, and he and his followers like Enoch may never taste of death. Charlatans, all. The Bible says it is appointed once for all men to die, and after death, judgment; but Enoch "walked with God after he fathered Methuselah …thus all the days of Enoch were 365."
As for Sheikh Sharubutu, the man has reconciled with him, so, apparently, his death may have been postponed. Or is that a joke? We live to see; or, some of us would not live to see?
Africanus Owusu – Ansah