Tro-Bu MP Donate Furniture To Ghana Education Service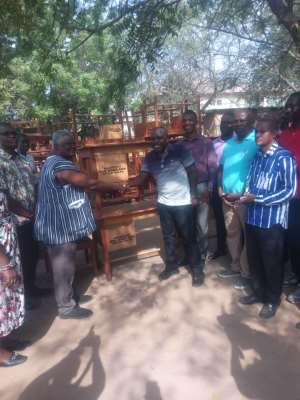 The member of Parliament for Tro-Bu Constituency, Hon. Moses Anim, today January 16, 2019 made a donation of school furniture to the Municipal Directorate of Ghana Education Service in the Ga North Municipality.
The furniture which was gladly received by the Municipal Education Director is intended to be distributed to Omanjor M/A, Mile 7 M/A, Asofan M/A and Achiato M/A schools.
The Hon. Member of Parliament reiterated his commitment to maintain education as a priority since it remains the backbone of every country. He further stated his willingness to support every school going child in his constituency to have access to quality education and progress to benefit from the implemented Free SHS by H. E Nana Addo Dankwa Akufo-Addo.
Hon. Moses Anim in his concluding statement assured the Municipal Education Directorate, that, he will be sponsoring this year's mock examination to adequately prepare the final year students for the Basic Education Examination.
The Hon. Member was accompanied by the Constituency Executives, Electoral Area Coordinators, Polling Station Officers and the Communication Team.