'Piloloo' At Eastern Library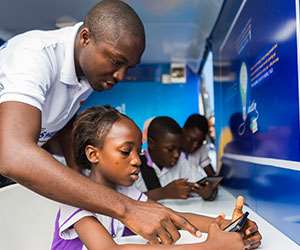 The Eastern Regional Library has introduced a fun way of educating pupils who visit the library with all the needed skills to locate materials on the shelves of its libraries.
This innovative way allows pupils to locate a specific title either by knowing the Author's name or Book title whilst having fun, as implied in the game where one is made to seek a hidden item by another.
The Eastern Regional Librarian, Mr. Evans Korletey who personally took part in the activity indicated that ''in the year of reading, it is envisioned that new materials will be available on the shelves of the various libraries, and in order to whip the interest of our young readers, we adapt a local game of which these children are fond of to give them a little of our professional touch''.
He also emphasized that ''by knowing where to look for a specific material in the library we reduce the time wasted by our users and get to serve them better''.
He indicated that the Eastern Regional Library intends to adapt several local means to deplore global experiences to its users.
The Ghana Library Authority has declared 2019 as the Year of Reading and it is expected that several literacy related activities will be undertaken to promote Reading across the country.