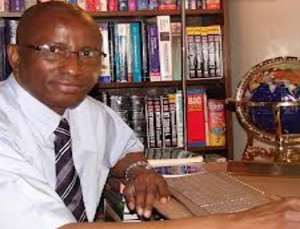 Pinnacle of Defiance
Defiance is direct translation of "balangta" and that fits the occasion when you take close look at the rise to power for Adama Barrow from whatever to highest state power, as Gambian President.
Adama Barrow defied all rough tides by unseating 22 years entrenched dictator Yaya Jammeh who bent on ruling for 1 billion years but surrendered one dark evening. Jammeh was bundled out of Gambia without all his bags and baggage on his last tour never to return, enduring the bitterness of exile he put so many others through, from July 1994 to December 2016.
It would have taken highly determined political force to win 22 years dictator through one election especially within a campaign period less than 6 months. Again, Adama defied the passage of time by beating Yaya Jammeh forthright.
Over the whole 22 years Yaya Jammeh military dictatorship, he banned political parties and jailed opponents. He also killed political enemies perceived or real. Adama defied every spell of danger by not for once coming to adverse attention of Jammeh. He stayed in private business estate trade, making cool money like any free person.
Turning Point
When Yaya Jammeh insisted ruling for 1 billion years, most Gambians gave up any hope of seeing light at end of the tunnel. Political pressure aimed at unseating Yaya Jammeh accelerated over time. Different people embarked on their own ways. Social media fuelled mass political awareness with use of handheld mobile phones and other devices. Information from state controlled near monopoly Gambia Radio and Television Services GRTS could no longer hold the balance of power to influence a yearning public.
Everyone thought Yaya Jammeh was ripe for being defeated but nobody could tell when the tipping point matures. Politicians tried their hands and put heads together to have lasting solution. There was suggestion to form a coalition of parties. Talks ended in formation a national alliance. This idea was aborted before reaching full blown age.
With December 2016 Presidential elections less than 6 months away, political parties once more decided forming a coalition. They signed a memorandum of understanding MOU. The key point of this agreement is that a flag bearer be chosen whose mandate stops at 3 years. This flag bearer is supposed to be independent of all coalition party members.
Adama Defies the Norms
At the time of being selected flag bearer, Adama Barrow was not heading a political party although he held position with United Democratic Party UNDP. Leadership of his party including the Presidential Candidate Ousainou Darboe commonly known as Lawyer Darboe were in jail for politically motivated claims.
April 2016, some political activists led by Solo Sandeng a member and youth leader of United Democratic Party UNDP took to the streets in peaceful demonstration. They demanded political reforms which would later become stepping stone for a coalition to unseat Yaya Jammeh.
During a primary, Adama Barrow was selected flagbearer of the coalition, beating established political big wigs including Halifa Sallah of People's Democratic Organisation for Independence and Socialism in Gambia PDOIS. Dr Isatou Touray who contested under independent ticket also lost to Adama Barrow.
For the first time on such large scale, key stakeholders in Gambian politics reached a firm decision to come together so that they beat an entrenched 22 years dictator Yaya Jammeh who controlled guns with bullets but eventually defeated through ballots.
Agreement was reached that the flagbearer Adama to serve only 3 years even though the electoral cycle is 5 years by provisions of Gambian constitution. That by itself is total defiance of Gambian constitution by a group not Adama alone. They did so with a gentleman's agreement. Adama is on record as having accepted the terms of his choice as flagbearer for the coalition.
What led solid body of leading Gambian politicians to defy a crucial constitutional provision of 5 years electoral cycle was for good reason based on calculated motive. All they wanted was/is to unseat a dictator which they achieved. Can we blame Adama Barrow alone for defying Gambian laws?
It was agreed that the flagbearer to serve only for three years but must resign from any party of affiliation. The flagbearer is also under terms of the coalition meant to stay out of politics after serving 3 years in a transitional government. Such transition is conceived with the understanding (MOU) of overseeing reforms and not to embark on any national development agenda.
When the dust settled and Adama Barrow sworn in as President for a transitional government, he defied every protocol by provisions of a coalition agreement according to the (MOU). Adama now insists he will bring more development to Gambia than 30 years of deposed president, Sir Dawda Jawara and 22 years junta rule under Yaya Jammeh put together. That situation leaves Adama with a deep time shortage requiring him to keep the post beyond 3 years.
Adama now insists he has better intention to develop Gambia, but he falls short of words to name his own political party. With just this year to go (January -December 2019) it is yet to be seen if President Adama Barrow will earn his merit by keeping to the gentlemanly agreement as provided by the December 2016 coalition offers which defies the constitution. He has the choice of belting himself round the 5 years that Gambian constitution provides. There is a case of defiance anyway round it.
Adama "balangta" refers to this political quagmire where laws are defied, and agreements broken to suit a burning ambition for power. Defiance is at times seen as mark of bravery.
Sarjo Bayang, January 2019.