Fact Alert! Beware!! Lydia Seyram Is Not Legally Engaged Wife Of Agyarko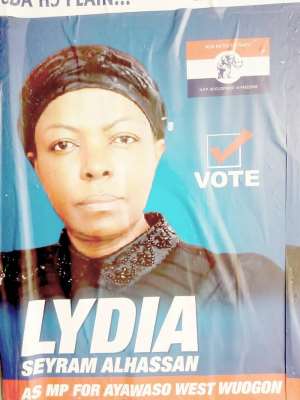 Indeed, there are a lot of questions begging for answers if my heading is anything to go by.
I have been thinking aloud for sometime now, and wondering whether the New Patriotic Party (NPP) has upon second thought really scrutinized Mad. Lydia Seyram Alhassan as their Parliamentary candidate to occupy the vacant seat of the Late Hon. Emmanuel Agyarko in the Ayawaso West Wuogon constituency.
Sources close to Mad. Alhasan have disclosed that she indicated as spouse to the Late Hon. Agyarko on the NPP nomination form she filled. NPP, should really get down into Mad. Lydia, who is she?
Madam Alhasan should stop confusing and deceiving the public of being the wife of the late Hon Agyarko.
In African tradition and family set up, a widow is not supposed to be seen speaking publicly. Neither is she supposed to even take part in any contest.
The seat became vacant after the untimely demise of Hon.Emmanuel Agyarko, the Member of Parliament for the Ayawaso West Wuogon constituency.
What even surprises me is that, Mad. Alhasan who claims to be a widow sent a statement inviting constituents.
"The Candidate further invites all and sundry to join her in prayers, as she faces the daunting tasks of mourning her beloved husband, giving him a dignified and befitting burial as well as honouring his memory by continuing the worthy legacy he left here among us".
So some questions to ask are:
Is Lydia Alhasan a really credible and Honourable enough to occupy the seat of Ayawaso West Wuogon?
Will she be Hon. enough to manage a constituency?
How can a proper widow enter public space and contest elections when the husband has not been buried?
Is Mad. Alhasan an imposter, or a cocubine to the late Hon. Agyarko? Whiles Mrs. Josephine Naana Agyarko is continuously mourning her late husband.
What kind of Parliamentary candidate are you promoting? Is she credible to manage the Ayawaso West Wuogon constituency?
The question being asked amongst Hon. Agyarko'sū siblings and close family members are... did she curse her so-called 'husband' just that she lies her ways in and impersonating to take over his position in Parliament?