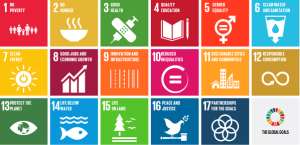 Self medication has become a very topical issue in recent times mainly due to the influence of social media and other contemporary factors.
In this light,some final year students of the University of Education,Wineba, are conducting a research in the Gomoa Assin in the Central Region of Ghana on self medication and its rippling effects on the youth.
The research is led by Mr.Abdallah Gbankulso,a final year student of the UEW.
The research group goes by the name ABED consultancy.
With the issue of Tramadol and the intake of unauthorized herbal medicine becoming more Rampant and a threat to achieving the sustainable development goal three(3),thus:"promoting good health and well being of every individual," these final year students are seeking to use theatre for development as a medium to nip this canker which is eating deep into the moral Fibre of society in the bud.
In the working community (Gomoa Assin) which the students are executing this project, they have made very ground breaking discoveries on the topic which they intend to share with the world come February 15th, 2019,in the central region of Ghana.
Could it be our proximity in terms of geography to the forest that is making us want to always step into our back yards and self medicate;or its the influence of mass media?
Well,Chief Ananpansah B Abraham,the Northern Regional correspondent for Ghanaweb.com has taken keen interest in the project and the findings these researchers are going to publish and will keep readers up to date as the story unfolds.
The researchers intend to organize a durbar to make the findings of the project known to the public through dramatic expression.
In attendance to this event will be health workers, students,the academic community, members of the Gomoa Assin community, the clergy,traditional authorities and every well meaning Ghanaian interested in the safety and well being of the average Ghanaian and also believes in the attainment of the sustainable development goal three.
There is also going to be a free health screening exercise on the day of the event.