Ones Dies in Agogo Revive Clashes Today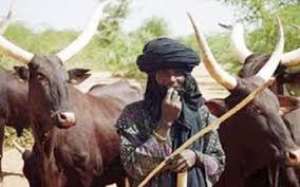 One dies as others sustain injuries as the riot between the residents of Agogo, a town in the Asante Akim North Municipal of the Ashanti Region and Fulani herdsmen rages as fresh reports document the death of one with many others sustaining injuries and currently at the Agogo Hospital.
The riot between indigenes and herdsmen has been deadly since 2002. Local farmers have had repeated distasteful encounters with the nomads culminating in reprisal attacks.
More than twenty (20) people mostly farmers have lost their lives with properties, mostly farms and cattle been destroyed. There have been numerous intervention by the government and stakeholder to install peace between the indigences and the fulani hersmen but it seems their effort prove futile as there has been a fresh violent conflict today.
Residents of Agogo have poured out their frustration unto the governemnt and the chiefs on how the activities of the fulani hersmen are endangering their lives but it seems their demonstrations and legal actionals werent enough.
The Asante Akim Divisional Police Command is overwhelmed by the revive of the clash as they investigate the cause of the clash and puts the culprits to order.