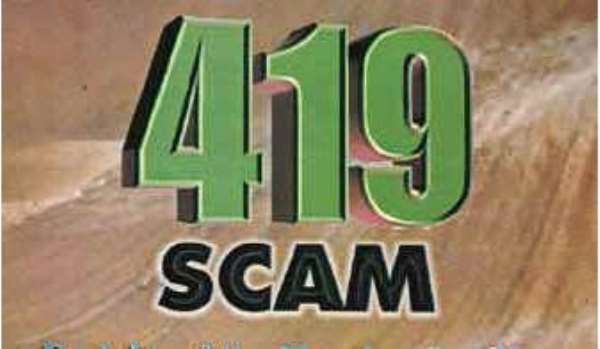 The police have arrested a man suspected to be involved in an Advanced Fee Fraud scam known as "419".
Dickson Gawu (alias William Gana, Seth Sakyi) was arrested when he allegedly defrauded a Swiss businessman, Ben Sotlana Chedu, of £12,000.
The Deputy Director of the Criminal Investigation Department (CID), Mr Patrick Ampewuah, told the Daily Graphic that the police received information that a Swiss national had been lured into the country and lodged at a hotel at Tema by some fraudsters suspected to be involved in an Advanced Fee Fraud scam known as "419".
According to him the police visited the hotel and met Chedu at the hotel having a meeting with Gawu.
He said Chedu then produced some documents forwarded to him by Gawu, including a Ghana Immigration Service letter dated November 21 permitting him to enter Ghana.
Mr Ampewuah added that Chedu also produced some forged documents allegedly received from Gawu to convince he, Chedu, that $2.5 million had been deposited at ECOBANK Ghana Limited for him.
He said when the suspect's bag was searched, an original copy of the Ghana Immigration Service letter number MFA/GIS/01 dated November 21, 2005 was found.
He added that when the police further searched his house, ECOBANK Gh Ltd documents, two Ghanaian passports bearing the name of Apenteng Kwaku, three Ghana voter ID cards with the name of William Gana, Sakyi Seth and Dickson C.C. Gawu all bearing the photograph of Gawu were retrieved.
According to Mr Ampewuah other Immigration Service entry visa forms and letters together with an amount of $1,103.00 were also found in the room.
According to his report, the suspect said in his statement that he was asked by his Nigerian friends to prepare the immigration letters for their visitor (Chedu) and also receive him at the airport, which he did.
He said investigations were under way to establish the genuineness of the documents and also apprehend other accomplices.