More Communities To Benefit From Colombia Composting Toilet Project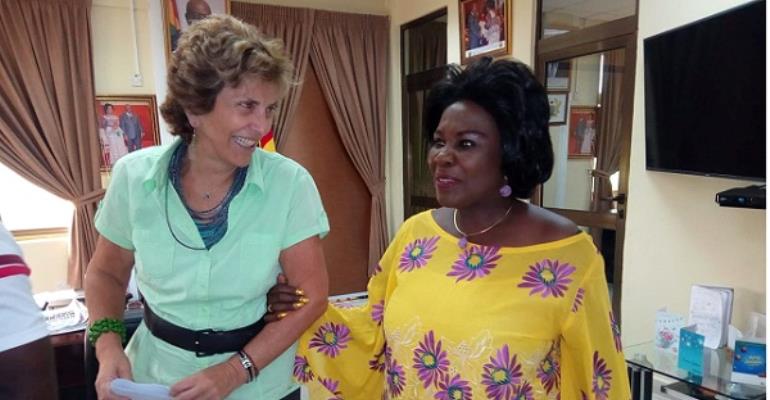 A sanitation initiave being initiated by the Colombian government is set to benefit hundreds of communities to improve upon insanitary conditions.
It is a Colombian government-sponsored composting toilet project.
According to the Sanitation And Water Resources Minister, Cecilia Abena Dapaah, some poor communities and households across the country in dire need of these facilities will be identified soon.
On Friday, January 11, 2019, the Colombian Ambassador to Ghana, Claudia Turbay Quintero, paid a courtesy call on the minister at her office in Accra, where she announced that the composting project, which has already been piloted in some selected communities, will begin fully in February this year; she appealed to the minister to assist the embassy select beneficiary communities.
The minister readily accepted the task, saying the project fits well with the agenda of the Akufo-Addo government to provide toilet facilities for poor households and communities, saying that government has already constructed 15,000 toilet facilities for households.
Briefing the minister about the project, the Columbian envoy indicated that "our purpose is to offer a solution which is affordable, sustainable and with a high scalability profile."
She said: "We intend to train trainers through the transfer of technical and methodological knowledge for the construction of composting toilets at a community and institutional level, with organizations that are directly involved in the execution of sanitary and health public policy."
According to her, Ghanaian carpenters, architects, designers, community members and latrine users, government representatives, social leaders, and Colombian architect, sociologist, are to be brought on board for the 10-day project.
Ambassador Quintero further noted that "the first stage of the project is the design of a prototype of a composting toilet that responds to the environmental, cultural and economic conditions of most users."
She added that "to this effect, we have the participation of a multicultural and multidisciplinary design team. We would build a prototype that goes beyond the sole design of an object or service, in the sense that we hope the process includes different stakeholders, for it to have an empowering effect and for it to propose a new way of reading one's environment and involvement in it."
The envoy explained that the project, which encompasses cultural and technical exchanges on good hygiene practices, forms part of the South-South cooperation.
The minister thanked the government and people of Colombia, stressing that the project shall go a long way in improving the sanitation situation in Ghana.Caption: Ambassador Quintero (left) cracking jokes with Madam Dapaah shortly after their discussion
---Daily Guide