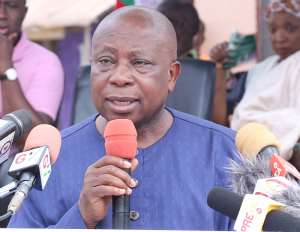 Kweku Agyeman-Manu, Health Minister
The Minister of Health Dr Kwaku Agyemang Manu has reiterated the ministry's commitment to include Zongo Communities in programmes that seek to better the health and wellbeing of its inhabitants across the country.
He noted that president Nana Akufo-Addo's vision for them was to see the transformation of Zongo communities and its residents through the good policies his government has initiated, which also include poverty alleviation programmes.
The Minister also observed that the National Health Insurance Scheme (NHIS) had been restructured to work better, and further pledged his ministry will "enhance activities of registration and renewals" of NHIS cards in the Zongo Communities to ensure its residents have access to quality health care in the country.
He went on to say the Ministry will continue to embark on public health education in Zongo communities in the country as it partners the aliu Mahama Foundation to organise such outreach programmes.
"My doors are open and I will continue to support the programme," he added.
Mr Agyemang Manu made the pledge at the launch of Aliu Mahama Foundation's 'Zongo Laafia' at Fadama in the Okaikoi Central Constituency on Saturday, January 12, 2019.
Present at the programme was the Minister of Inner Cities and Zongo Development, Dr Mustapha Abdul-Hamid whowas the special guestb of honour; Mr Patrick Boamah, MP for Okaikoi Central, and Hajia Ayisha salifuthe deputy CEO of the Zongo Development Fund.

In his speech, Dr Mustapha Addul-Hamid praised the Aliu Mahama Foundation for the initiative and promised to "fully" support the programme and make sure it is sustained to help residents of the zongo communities.
What is Zongo Lafia?
'Zongo Laafia' is a Hausa phrase that means Health for Zongo. The health outreach programme targets deprived urban communities such as the Zongos and inner cities.
According to Dr Samuel Frimpong, the Executive Director of the Foundation, the outreach programme, which is the first of its kind, is expected to deliver "basic healthcare to zongo communities and inner cities across the country to augment the effort of the government."
Source: Ghana/ myxyzonline.com