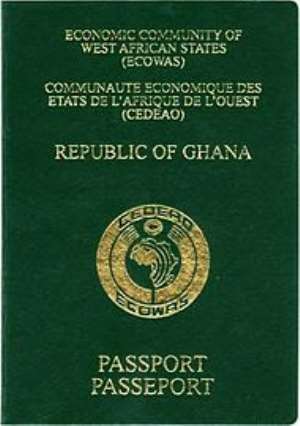 The attention of Concern Ghanaian Students in China (CGSC) has been drawn to a publication by the online news portal of Citi FM on the 31st December, 2018 titled "Five Ghanaians Arrested Weekly For Illegal Work, Overstay- Deputy Ambassador". It has also been noted that same story has been published widely on most Ghanaian Social Media platforms.
Our checks have also verified its authenticity as a communique issued by the Deputy Ambassador to China, Dr. Dwamena while addressing Ghanaian students as the Special Guest of Honor, at the 2018 Afehyiapa Dinner organized by the Beijing Chapter of NUGS-China in Beijing.
We initially decided not to comment on the statement made by our deputy ambassador but after a deep reflection on the communiqué, we find it needful to correct and let our deputy also know how we feel about his public statement. As we always say, Missions of the various countries apart from them satisfying the tenets of international relations and diplomacy, their main function is also to ensure the welfare of the citizenry in the countries they find themselves.
No country could aspire to new heights if its institutions are not stable and its foreign mission not capable of using and retaining skills, and developing new talent to deal with problems facing its citizens overseas and creating opportunities for all, including the new generation. This is particularly valid when we have a lot of our citizens learning and working in China. Every problem has a solution, but the case of the Embassy of Ghana in the People's Republic of China is more of a travesty in terms of the core functions of missions abroad.
We lay this premise because of the communique made by our Deputy Ambassador. According to him an average of 5 Ghanaians were arrested every week by the Chinese authorities for illegal employment and for overstaying in the year 2018, and that majority of those arrested were students which stand highly for correction and condemnation as he failed to provide succinct reasons behind their arrest, data of students in his database and the kind of work? What statistics is he basing his allegations on? What is the data of Ghanaians living in China? As a deputy ambassador, what has he done about this issue? And what's the solution to this problem or allegations?
As a former medicine student from China as he is and heavily clothed with executive powers of our country as a deputy ambassador, he shouldn't have made this comment and even since he came, he is yet to take any concrete action at addressing the very systemic inadequacies under which he painfully became a victim. We challenge him to be a citizen and not a spectator. His indifference about his experience is becoming almost unreasonable to some of us. The best indicator is how many people we have lifted out from this situation, how many deprivations we have been able to reduce and eliminate.
Ghanaians here in China have lived through too many ups and downs since 2013 including racism, murder and so on. We experienced unfair challenge, and unnecessary drama attacks on our personality from our foreign mission here. If the embassy can't help us solve the problem, please don't entangle our problems. The responsibility of the embassy is to protect the interest of its citizenry but not support the uncivilized actions meted out to its citizenry overseas. We must say, we're not just embarrassed about the statement but highly disappointed in his personality. What is keeping Ghanaians living in China from incessant protestations, defiance and insistence on getting the right thing done by Ghana Embassy in Beijing?
We also lay this premise because of an incident that occurred on Saturday the 22nd of December, 2018, which involved a Ghanaian student, Mr. Sylvester, a postgraduate student who was arrested by the police in Jiao Zhou District, for teaching as a part-time. Upon hearing the news, we the Ghanaian students in the university contacted the school authorities to verify whether the news is true or not; and it was confirmed that our brother has been arrested. After 48hrs or more without any details from the police, we tried to contact the Ghana Embassy in china to find out if they had been told by the police or the university about the incident which the embassy denied having knowledge of the incident. We, then went further to explain to the embassy concerning the matter and yet there was no show.
Five (5) days without notices from the police and our embassy, the Ghanaian students led by Mr. Moses Antwi went to the university to question them about Mr. Sylvester whereabouts. It was later confirmed our brother has been jailed for 2weeks without the knowledge of our embassy. We made a call to the embassy again to find out if there is update and still they told us there is no news from the police; so we updated them what's going on. Later in the afternoon, we received a call from the embassy, finally the police have notified them about the issue. Should we say, this is a clear indication of the embassy's incompetence in terms of the welfare of Ghanaian citizens or students in China?
There are highly placed Ghanaians living in China who have very fantastic experiences of responsive and functioning abroad systems, yet they just won't talk or act? We ask the question, what do these guys have to lose by standing up against our dysfunction foreign Mission here in China? Given that, the embassy has failed in protecting our interest, we find it provocative for the embassy to issue unwarranted and falsehood in the media just not to tarnish the image of students but also making it even a challenge for Ghanaians yet to acquire study visa from the embassy in Ghana.
We hereby call on the ambassador to retract or provide vivid evidence to his claim and start protecting the interest of its citizens as it ought to have.
Concerned Ghanaian Students In China (CGSC)