Zoomlion CEO Appeals To Media To Help Fight Ghana's Sanitation Problem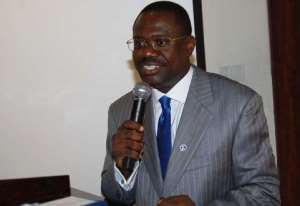 Chief Executive Officer (CEO) for Zoomlion Ghana Limited, Dr. Joseph Siaw Agyepong has called on Media houses to join hands with the waste management company to fight the sanitation problem in the country.
At a Press Soiree yesterday January 10 at the Alisa Hotel in Accra, the CEO of JOSPONG Group of companies called on the media to take it upon themselves to educate the public on the need to keep our communities clean.
He believes that even though the challenge of environmental cleanliness appears insurmountable, a collective effort with the media and other partners will surmount to address the sanitation headache in the country once and for all.
"I find it very important to have this press encounter with you to appeal to the media, an important body, to devote greater attention this year in partnering players in the waste management sector to help educate the citizenry in all communities about their civic responsibilities to at all times avoid littering and pollution of our water bodies", Dr. Agyepong said.
He further stressed "I believe strongly that the problem of the waste is not only about the waste managers cleaning everywhere 24/7 but has more to do with the poor attitude of citizenry towards waste disposal and towards the waste managers themselves. It is against this backdrop that I am appealing to the Media Fraternity to support the waste managers and government to ensure that peoples attitude towards waste is changed for the better.
The CEO of the award winning waste management company additionally highlighted that Zoomlion is counting on the media to repeat their efforts in the fight against illegal mining "galamsey" in the country to help address the menace.
"You have done it before, and pretty well, when the Media, with all their might supported government in the education program to bring to bear the dangers that illegal mining "galamsey" pose to our environment and water bodies.
"It is in the same vein that I am respectfully appealing to you all to partner the Waste Management Sector for us to do more in this direction to collectively take the education to our communities to win them as partners in environmental cleanliness", he said.
He concluded by stating that it is their hope to hold quarterly meetings with the media so they can sustain the partnership in educating the public to help the fight towards cleaning our communities.