Menzgold Customers Were Gullible - Financial Analyst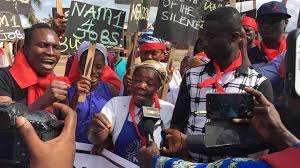 A financial analyst, Dr. Atuahene, has added his voice to the current Menzgold brouhaha. Customers of the embattled gold trading company have been agitating all week long demanding payment of their money.
Speaking to Nana Yaw Kesse on Peace FM's Kokrokoo, he said, "The customers were too gullible. The return on their investment was too good to be true. Before anyone would make any move in investment, they need financial counsel. Many of these customers were too gullible to seek any counsel."
Touching on the current ordeal of the aggrieved customers, Dr. Atuahene narrated how a similar scam happened in 1995 called R5 and PIRAM. He concluded that such schemes always thrived on the gullibility of their customers.
One Menzgold customer in the studio revealed how he was encouraged to invest because their brand was visible all over the place, even at the airport. Another pained customer added that endorsement by prominent personaliities like Asantehene and Abeiku Santana urged him to invest and even bring others on.
Meanwhile, the absconded Menzgold CEO, NAM 1, is on the wanted list of INTERPOL.