Glo, Africa Health Now, Support Expectant Mothers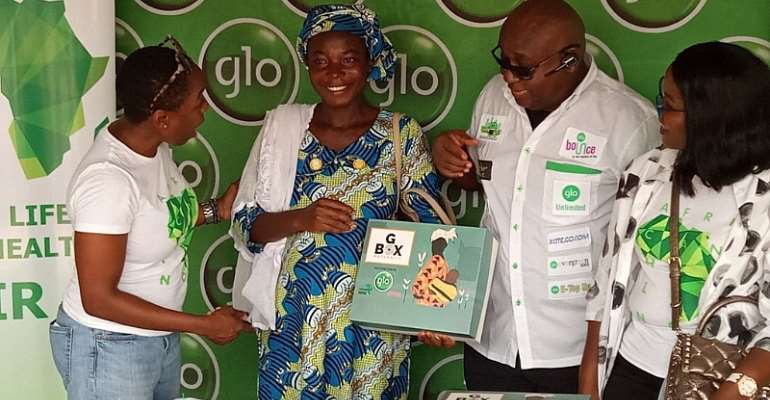 Glo Mobile Ghana, in partnership with an international NGO, African Health Now (AHN), on Wednesday distributed life-saving maternity kits to over 300 expectant mothers at the Madina Polyclinic, Accra.
The women were happy to receive the branded Glo and African Health Now Maternity Go Boxes, which contained several items needed by a new mother to make delivery hassle-free. Included in the box are cloth to carry the baby, sanitary towels, baby clothes, soaps, wipes and other essentials required.
Glo Mobile Head of Administration, Mr Derek Obuobi, disclosed at the event that the company decided to partner AHN to improve the health of women through boosting pre-natal care, reducing infant mortality and supporting mothers to deal with post-partum depression.
Explaining the outreach scheme, the Founder, African Health Now, Mrs Nana Eyeson-Akiwowo, confirmed that nearly 200 kits were distributed on the spot, targeted at women who otherwise would have been worried at having to source funds to procure these basic items. She disclosed that the remaining kits would be warehoused with the Polyclinic to cater for new mothers who may come for assistance in the nearest future.
Nana said that her organization discovered that some expectant mothers were not prepared for child birth in any way and would only come to the clinic for delivery without attending basic ante-natal clinics and requisite amenities.
"Our goal is to break that cycle by supporting these women from pregnancy to delivery and postpartum with the Maternity Go Box", she enthused.
The kits were presented to the beneficiaries by Mr Obuobi and Mrs Nana Eyeson-Akiwowo and assisted by the AHN Ghana Brand Ambassador, Sacha Okoh.