Nuisance On The Railway Line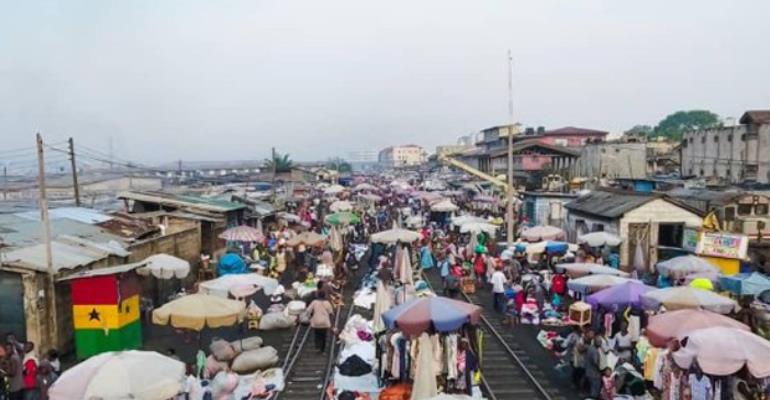 Any impediment in the way of development should under no circumstance be countenanced in this country. In the early days of colonialism when infrastructure was being developed, the British authorities drafted the natives to go and work – action buttressed by law. Land seizure for the use of the state was also a common trend.
It is against this backdrop that we take serious exception at the nuisance being created by encroachers on the railway line between Tema and Accra. This story can be said about other lines across the country. The investment in the railway system is enormous and should therefore be spared such bouts of nonsense.
Must we as a country fold our arms and allow such wanton indiscipline to rob us of development? Some politicians are ready to jump into the subject when government takes measures to reclaim these lands; the occupation of which also poses danger to the squatters.
We should learn to walk our talk. A few years ago, this issue cropped up even before the major strides being taken to resuscitate the moribund railway system in the country. There was a brief movement to clear the squatters but like hot air, it soon evaporated leaving the encroachers emboldened to stay put.
Even more worrying is the allegation that some of the squatters are families of former employees of the railway company. It is a bond with the system that appears to be responsible for the stubbornness.
The development of the moribund railway system and its extension is a task which must be carried out come what may. It is a legacy project of the President; a development game changer in which the Burkinabes have a major stake in. We cannot allow the nuisance of squatters to stall such a major project whose dividends are far-reaching.
Those constituting this impediment must be evicted by force. That is the way and we can imagine what frustrated politicians would seek to do with this action.
When the bulldozers move in to clear the place for work to commence, these politicians would join the evicted in fouling the political space with all manner of complaints.
Leaders take the best decisions for their people and are responsible for the outcomes of such actions. We expect therefore those appointed by the President to execute such important projects not to allow nuisances to stand in their way.
We stand shoulder to shoulder with the Railway Ministry and the Railway Company in their efforts to execute the railway resuscitation project across the country.
For the first time in the history of Ghana not only is a moribund railway system being resuscitated, a major extension is being carried out.
We are standing by for news about the actions to be taken by the relevant agencies to pave the way for the engines and coaches to move; which should be soon.