Ghana's Judicial System Depends On Corrupt Officials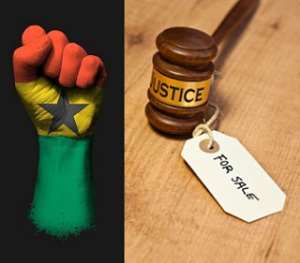 The principle of employment of judges in any country by the government is such that if you don't prove your loyalty to the government you will never stay long to be a judge, thus, this makes judges corrupt. This is the issue in Ghana at the moment.
Corruption flourishes worldwide. It affects all aspects of life, namely, government, law enforcement, health care, education, and poor helpless citizens.
Presidents often announced changes in the judicial system that will allow the courts to work more efficiently but these changes are done to be in relation to what government advocates, thus; corruption seems endless.
In order for the judiciary to actually exercise its constitutional role, it must be independent but because the government controls the judiciary system, the system is corrupt and lacks efficiency.
There is corruption in Ghana's judiciary system which has affected the entire country making living conditions in the country a hell than comfort.
In the course of judicial reform, judges appointed by the government begin to focus more on the interests and priorities of those who provide them with a high level of welfare rather than the law.
In such a situation, there is no guarantee that the judiciary will be efficient; therefore, the level of bribery in the Ghanaian courts does not decrease, instead, increase.
Continuing judicial reform in conditions favourable to the government in power will not help Ghana, that's the reason the judiciary system is not efficient and nothing is going well in the country.
Yet political greeds blow daily trumpet that they are the best political party for Ghana.
Poor Ghanaian citizens will not fully benefit Ghana's judiciary system, even if they are right or not guilty because the system takes a bribe from the rich to pass guilty verdicts against the poor. So consider the corruption in the judicial system in Ghana.
Ghanaian judges or lawyers abuse their authority and the rights entrusted to them for personal gain. This is contrary to the established rules. Corruption in the judicial system is the exploitation of the status, which damages the rights and interests of citizens protected by law.
Corruption doesn't build a good nation, therefore, the success of Ghana must depend on transparency and a free non-corruptible government. What a waste of resources and taxpayers' money if Ghana maintains such a judiciary system?