Are We Going To Be Absorbed? (The Woes Of The Unemployed Nurse)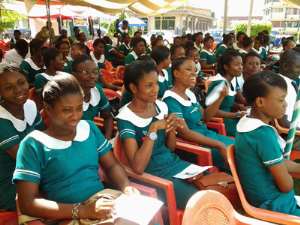 The myriad of unemployed nurses currently wasting uselessly in the house is astounding and worrying to the extent that, it is no more funny and prestige to be called a nurse anymore. The issue of graduate nurse unemployment in Ghana is a very sad and dire situation, which needs keen interest and attention. Graduates who went through the walls of nursing training in Ghana feel dejected and useless so far as the various governments' ways of tackling their matters is concerned.
Not alone are the graduates feeling dejected and useless, their parents who funded their education have lost hope, and have given up in the upkeep of these confused and dejected graduate nurses wobbling about in the house left to their fate. One thing I know personally having my nursing education was nursing is first of all a call, and a noble profession which demands constant practice to sharpen ideas gained professionally out of constant practicing, but here is the case over two years and over some aggrieved graduate nurses has been left on their fate uselessly unemployed in the house.
It has been a very sickening situation to witness our academically gained knowledge from books gradually withering off from our mental corners, due to the absence of practically experiences to seek to the improvement of the skills acquired during our training days. The call for graduate nurses demanding for immediate employment is not and has never been for our selfish and parochial interest, but rather an unflinching love to serve our nation and make it great and strong.
It is very sad, observing colleague ones in the noble profession now turned to a baker, not bad though but what is the essence of attending a nursing training institution in our country now? Do we gain the knowledge to place the certificates on our walls for beautification or to renew our NMC pin all because we confide in it pride to be call a staff no job nurse? It is an absurd situation, which needs no political blames and brainwashed this situation needs swift attention and keen national interest.
In my opinion I will continue to appreciate the effort of TTAG in working hand in hand with their mother institution in solving issues concerning education amicably without the involvement of any third party. Not in the case of Graduate nurses, not graduate unemployed nurse assistants not graduate unemployed General Nurses, not Graduate Unemployed Degree nurses and the so called factions created in the health fraternity here in Ghana.
It sometimes saddens me on the disunity between us the aggrieved nurses, which is indirectly influenced by some stakeholders of the health sector, finding it possible to penetrate into the GNMTA. I have always challenged both the previous and current administration to be proactive as their sister associations has always been, they should try as much as possible to fight for a common goal for nurses, and not some group of nurses.
The GRNMA is a respectable institution recognized in fighting for a common goal for nurses, but offlate the leadership of this association is not doing well enough to fight for these aggrieved unemployed nurses (I stand to be corrected) and failing them in some way. My question is will the NMC do nothing in the permanent posting of graduate qualified unemployed nurses but continue to take PIN/AIN renewal fees, is this not daylight robbery which demands a court suit? Well, fair enough, in as much as I will personally disagree with the operation of the various institutions I have made mention off, I have absolute respect for their daily operations seeking to promote the well-being of Ghanaians not necessarily nurses.
It is disheartening and mind boggling to understand the issue of graduate unemployed nurses' fate as far as permanent employment is concern, this issue is beyond politics, it is beyond party affiliation, it is beyond the current government or political party in power and it goes beyond political party anthem. This issue is about the fundamentals of safeguarding the interest and maintaining a sound and a stable healthcare system to the good citizens of Ghana. This issue is not about the internal disunity and the creation of inferiority complex of the health profession; it is about maintaining and achieving a common goal to champion the course of a good healthcare delivery to the good people of Ghana.
It is high time the government take keen interest in the issue of graduate nurse unemployment, and observe it as a national interest and beyond party influences, it is high time the stakeholders of health in Ghana come in rescuing the dejected and left to their fate unemployed nurses. The GNMTA should also be proactive in the fight for permanent posting, some of us are not feeling their fight for permanent posting, they should seek beyond white envelope when meeting with stakeholders and fight a common goal that favors' the interest of the student nurse and graduate nurses.
Colleagues of the noble profession!!!!!
KWAKU DEBRAH JNR
A SOCIAL COMMENTATOR FOR NURSES
POLITICAL NURSE ACTIVIST