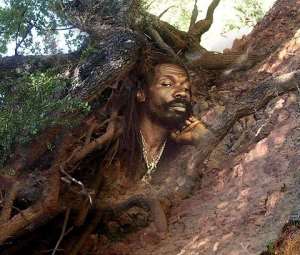 Reggae group 'Culture,' lead singer, late Joseph Hill
Many people call Jamaica a paradise on earth, the diamond in the sea and heaven in the Caribbean. There is a magic in Jamaica but listening to the great reggae tunes isn't enough until you visit this great country in the Caribbean which has attracted millions of tourists worldwide.
The mere mention of Jamaica brings in mind great reggae artists such as Bob Marley, Peter Tosh, Bunny Wailer, Joseph Hill (Culture), Jimmy Cliff, Toots and the Maytals, Desmond Decker and other artists but there is more in Jamaica which makes it unique than the sweet coconut-water reggae.
Jamaica is part of the Greater Antilles and is the third largest island located south of Cuba and west of Haiti. The island boasts of beautiful exotic nature, vibrant distinctive magnificent mountains, breathtaking waterfalls, and miles of first-class beaches.
The natural beauty of Jamaica attracts travellers from all over the world. The most visited places of the island include the Blue Mountains, where one of the most popular and top quality coffee in the world comes from, and Dunn's River Waterfalls.
In the northwest of the island, there is a huge resort area of Montego Bay, where half of the best hotels in Jamaica are located, including Half Moon Resort, where Queen Elizabeth II stayed, and Round Hill Hotel and Villas.
It is understandable why the island boasts of beautiful exotic natural beaches, places untouched by humans, good infrastructure and beautiful locations, such as Font Hill Nature Reserve, Cockpit Country, a limestone platform with many caves and valleys.
Montego Bay is famous for its magnificent beaches, old mansions, and plantations, as well as many attractions of both historic and entertaining. Tourists enjoy their visit by rafting along the rivers Marta Brae, Black River, take a tour of the Blue Mountains or play golf on the best fields of the island.
Negril is one of the most environmentally friendly resort areas in the world. It is located in the west of the island, revealing its natural beauty of the seven-mile sandy beach of Kaliko Jack, Bladi Bay, 18 reefs and islands in Bubi Bay, Yas waterfall, Joseph caves, Anansi Park and picturesque fishing villages.
It's intriguing to know that Jamaicans also call inconsistent or untrue stories 'Ananse stories.'
The resort of Ocho Rios in the north of the island is famous for its chic tropical vegetation, as well as the 180-meter-high Dunn River Falls, fruit and coffee plantations and the viewing platform of Murphy Hill with a height of 670 meters.
The famous Blue Lagoon, where the filming of the same name (The Blue Lagoon) took place can be visited in the north-east of the island, in Port Antonio and in the south-east of the country. It worth visiting the Spanish town, the former capital and one of the main attractions of the island.
Diving in Jamaica gives the chance to see the diverse and mysterious underwater world. The waters of Negril have great visibility with a rich variety of fish, turtles, eels, and dolphins. At a depth of 19 m reveals the so-called Throne Room, a cave filled with yellow sponges.
On the territory of Jamaica, there are 10 excellent golf courses, because Jamaicans love this sport very much. In Kingston, the capital, you can also enjoy the sight of historic beautiful buildings, paintings, and products inspired by Rastafarians.
Amazingly, today, Jamaica is no more known as the reggae kingdom, but also athletics country, thanks to good athletes, such as Melene Ottey, Asafa Powell Usain Bolt etc.

Joel Savage interviews lead singer of the reggae group 'Culture,' Joseph Hill
FULL INTERVIEW WITH JOSEPH HILL
Joel: I have to call you Sir Joseph Hill. Let's rally round Jehovah's throne. I have some few questions to ask you today.
Joseph: You are welcome. (Then he smiled)
Joel: It was in the seventies, I heard of Culture. Can you please tell what has inspired you to be in this hard music industry for all these years?
Joseph: It's Jah (referring to God) that gives me the strength. Always feel that there is something in watch out. For myself, I love to play for the people. They are also part of my inspiration. These are what have inspired me throughout these years.
Joel: You have been singing all your life about corruption, oppression, war, poverty, discrimination, crime and so on. Were you a victim to such things in any circumstances?
Joseph: There are people I saw in comparison to various countries. Yes!yes!! yes!!! I have seen people die and not a word of justice is been said. Think of a person's life. It is priceless. The last grief I had. There was this woman in Afghanistan, separated from the land. They treated her so bad that she and her child were eating grass."G R A S S- grass".(Joseph moved with sorrow spelled the word grass)
Joel: Your lyrics and beats in every song of Culture, touches and moves everyone on the road of trials and tribulations. Where do you get such wonderful rhythms and lyrics from?
Joseph: The big man that rules the earth. He is the governor. (He laughed)
Joel: You were in Sierra Leone, when the war was at its peak, with brutal activities of the rebels. Did your visit created any impact or brought a change to the suffering masses?
Joseph: Yes, my visit brought a change. When the people saw me, they don't know what to say. They just cried and cried. You know the rebels told the government that "You should be glad that Joseph is here. If you he wasn't here this place would be destroyed within 24 hours. Imagine. I just came back from there a few weeks ago"
Joel: I learned that at the capital Freetown, at the guest house you lodged, there is a tree nearby, and every morning a bird came to sing, and out of the song of the bird, you composed a song from it.
Joseph: Yes, it's true.
Joel: I ask the same question any reggae artist I interview. Reggae music is loved by everyone. But why is it that the music is given less attention?
Joseph: Because the truth is God's friend. But not a lot of people are a friend of the truth.
Joel: You are following the Palestinians and Israeli conflict for a very long time and have even visited the Gaza strip. Who do you think is the stumbling block to this peace everyone is seeking?
Joseph; Greed, greed, greed. Because there is enough to satisfy every man's need but never enough to satisfy no man's greed. So greed is the stumbling block.
Joel: In one of your music, you played a song against Yasser Arafat, as the stumbling block.
Joseph: He made himself like that. He has to change his ways and the other man would change his ways. There is something called "Repentance". When repentance meets their hearts, we shall have a beautiful world.
Joel: You successfully came out last year with the remarkable "world peace" album. What message do you still have in mind for your numerous fans worldwide?
Joseph: You know people should respect one another. To be used, abused, refused and our hearts trampled by fear and living in doubt, thinking we are living on top of the world. No, we shouldn't live that way. We have to seek happiness, love, mutual respect, joy and justice of God around us, and peace would find its rightful place.
Joel: Thank you very much for this interview Sir Joseph Hill.
Joseph: Thanks be to Jah
Read other interviews of Anthony B, Andrew Tosh, U-Roy, Luciano, Gregory Isaacs, Manu Dibango, Prince Malachi, Alton Ellis, Junior Murvin, Julian Marley, ASWAD, Femi Kuti, Seun Kuti, Tutu Puoane and many others in 'The Passion of Reggae and African Music.
Available at: https://www.amazon.com/Joel-Savage/e/B008SCTYI6/