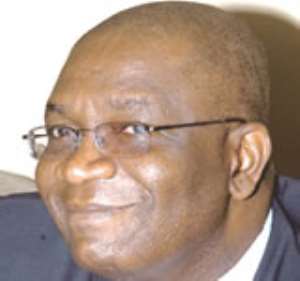 This is to clarify the contents of some articles going round and misinforming the public. If you don't have the facts please shut up!!! Whoever wrote the article is a frustrated and mischievous ingrat, twisting information to suit his convenience.
Mr Agyarko was our brother in law. He was a humble, generous and kind-hearted man. May his soul rest in the bosom of the Almighty God. My cousin Mrs. Josephine Naana Agyarko is the only wife of Mr. Agyarko. The others are desperate concubines.
Mr Agyarko and Naana lived in Naana's father, Tufuhene Kojo Baiden of Mankessim's house in Dansoman when they got married. They lived there for several years when Mr. Agyarko used to run a pharmacy, Vitapharma in Dansoman opposite our cousin, Aunty Mary Achanfuo-Yeboah's house. They later moved to a house built by Naana in East Legon. All his family members and friends knew this except those who were in exile at the time.
His brother Boakye Agyarko came to live with them in Dansoman when he came back from exile. It was when Mr. Agyarko came to East Legon that he became eligible to stand for the Ayawaso West Wuogon seat as MP after he lost the Krobo seat.
So, those who just know him as honourable, the latter day saints should know that he did not just drop from Heaven. He started from somewhere. Is this Naana's reward? My cousin Naana is an industrious, intelligent and hardworking lady who does not reap what she has not sown.
She works very hard to support her family. Naana is the quiet type but those of us who know the truth will not sit there for her image to be tarnished. You people are forcing us to say what we should not say.
The person who wrote that article is envious and jealous of her. Mr. Agyarko never divorced his wife Naana. Any concubine who was fooled into thinking that he was going to leave Naana for her was living in a fool's paradise. Whoever is promoting the concubines can go and marry them. Leave Naana to mourn her husband in peace. Ungrateful beings!!!!!