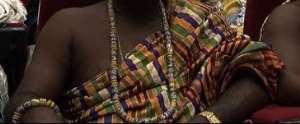 OBIRIFO AHUNAKO AHOR ANKOBEA,
OMANHENE OF GOMOA AKYEAMPIM TRADITIONAL COUNCIL, CENTRAL REGION, GHANA.
Dear Nana,
"M'ara me ntse English papa, so me bɛɛgy wo na me dzi brofo and mfante -Twi amix".
As the Lord has lowered 2018 for us and ushered us into 2019 delightfully, I grab dɛm chance yi, na m'athank God for his kindness and mercies upon the lives of all traditional rulers in Central Region, of Gomoa Land and Ghana at large. Me blɛss God wɔ hom gracesfull life.
Eiii Nana sorry oooo, I nearly forgot "dɛ ɔwɔ dɛ me ntroduusu myself." Please call me Kojo Ampomah from Gomoa Buduata Twidan Abusua family 👪.
I write to commend you as overlord of Gomoa for safeguarding the peace and life under your traditional jurisdiction. I must echo that Gomoa people are one of the few peaceful ethnic groups in Ghana.
Though your people are respectful, humble and hold in high esteem traditional authority, they can not take all the credit if you also failed to exhibit exemplary leadership to them.
You have clearly demonstrated that you are an astute Church of Pentecost Member and a Godlyman. Ayekoo Nana Omanhene. "Wo leadership "abringy" glory and respect to Gomoa Buduata".
Nana, "me wɔ" a very serious dilemma "bi mu, na" I have been living with this stigma for a very long time "nna me pɛ" confirmation or otherwise from you as a custodian of our history.
"Dɛm" stigmatization-yi started when I was in class five and use to speak typical Gomoa dialect in the mist of many locals.
Anytime a particular boy heard me speak, he burst into laughter in that, his Dad, an Eweman told him as a child that, Gomoa people are "Mboa".
My accent was seen as hilarious which in itself attracted many nicknames, the commonest was "koo mfante". I tried to use bullying to tame most pupils from mocking me but the more I try, "nna attraction no reyɛ piiii".
A teacher bruised me by explaining to me that, when God was creating Ghanaians, we were the last products and God didn't know where to place us, but our leader kept pestering God, so out of anger, God said to us "Go mmoa".
And so I should get use to it and watch my leaders as they don't have any directive principles for their people.
At a point, I was soo devastated by the incessant mockeries, "nti otwa dɛ me" learn Nzema, Asante Twi and English well. I was unnable to introduce myself as Gomoa boy but will bumply say, "me yɛ mfante nyi" when am asked.
Another neck-breaking attack that also received oxygen was in Kumasi Polytechnic. I visited a friend in his place of abode to introduce to me what's the dos and don't of "Fante Students Union".
All said and done, he mentioned the slogan of the Union, "Fansu", and his roommate whom we thought was asleep shouted on top of his voice, "Yɛɛ Agyimi". Repeatedly, "Fansu - Yɛɛ Agyimi", "Fansu -Yɛɛ Agyimi" and that killed my inner ego's to join the union.
I have tried in diverse ways to disprove many people that, my leaders and my people are not nitwit.
Hmmmm, Nana, at University level, I was brain-ripped by a Gomoa lecturer after knowing that I was a Gomoa man, that I should not try to go to my home town to challenge my leaders to do things right as am doing on campus because (leaders) are "Nsumantufo" (Deity worshipers). They will kill you prematurely, he opined.
Doubtful Thomas, I started visiting home since 2016 to date and I wept the first time out of 30 years away from home. The town is empty. Most youths are downtrodden (weed and tramadol).
I had the shock of my lifetime when the sand weaning Tufuhen of Gomoa Buduata, Nana Kow Abrokwa ll saw the use of the word "Premature" as abusive in the context of wrongful decision at a bad time in our first encounter.
There norrr, I saw that the center cannot hold and the "Nsumantufo" disc was played to me again by an old man who told my mum not to allow me meddle in their matters to avert a nice guy like me being cage spiritually. I laughed. The Powerful God I serve!.
Nana, are Gomoa Buduata people cursed? It seems the only wise person at home now is WO1 Rtd Richard Annan, whose disappointment in life after serving in the Army of Ghana and being Regional Security coordinator of Central Region during NDC reign in 2008, is to use his connection with the security service in Ghana to dispose lands belonging to visionless families.
Kwame Gyɛkye, in his Book titled African Cultural Values posited that, "knowledge is highly valued in traditional African societies for its practical results and implications for life". We lack it Gomoa Buduata.
The freedom that emanate from ignorance enslaves the one who entertains it. Buduata people have entertained "Nsumantufo spirit" and now the town has no tomorrow under the auspices of OBIRIFO AHUNAKO AHOR ANKOBEA ll, and his sub-chiefs?
Woooow, how can you sell all lands to so-called Estate agents without documentation at the expense of your own people?
There are no farm lands left for your people?
You don't have sea 🌊 at Gomoa Buduata for fishing 🎣 yet you sold all the lands?
I also heard you refused accepting Nursing Training College because you don't need it?
Nana, Tell me that "Go mmoa" school of thought is never true. And that we are wise.
I have been very moderate.
Afihyiapa.
Kojo Ampomah
0266334733