St. Elizabeth Hospital Supports Nob-J Foundation On Their Tramadol Abuse Campaign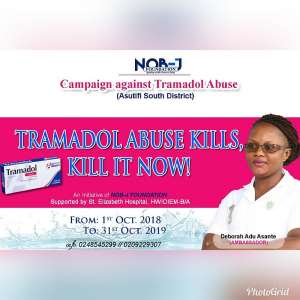 When NOB-J FOUNDATION launched its Sanitation campaign, I thought that was the farthest they could go, since seeking for sponsorship at this part of Ghana is difficult. They have cleared my doubts after launching their second campaign themed, "Tramadol Abuse Kills, Kill it Now!"
Speaking with the public relations officer, Mr. Patrick Asante Junior, he said, "The abuse of Tramadol, which traditionally, subject to a medical professional's prescription is used to alleviate severe pains, has swiftly become a social canker and therefore needed an even swifter attention. It's proliferation on the market and the disdainful impunity with which its peddlers sell the drug is a running spectacle."
"We have already created the platform with our first campaign so we hope the transition, albeit not entirely, from the first campaign would be easier, through the identification of the people with this campaign", he added.
The ambassador for the campaign, Deborah Adu Asante, who is a professional nurse at St. Elizabeth Hospital also said, "The alarming reports of Tramadol abuse, particularly among the youth who take it for recreational reasons in parts of the country have become an issue of great national concern, and obviously calls for intervention"
"It is therefore imperative for me as a health worker to collaborate with NOB-J Foundation to fight the increasing menace of tramadol abuse to save the future of Ghana."
Giving details about the campaign, Mr. Asante said, "With the hope of going beyond the Asutifi South District in the future, in the interim, there shall be a visit to Primary, Junior and Senior High schools to educate them on the abuse of Tramadol. We will also extend this campaign to churches and mosques, and also hope to get some minutes in the meetings of some social clubs in the Asutifi South district"
This campaign is an initiative of NOB-J Foundation, a community based Non-Governmental Organization at Ahafo Hwidiem, with the support of St. Elizabeth Hospital and the Education Directorate of the Asutifi South District.