Insecurity: A Major Threat To Nigeria's 2019 General Elections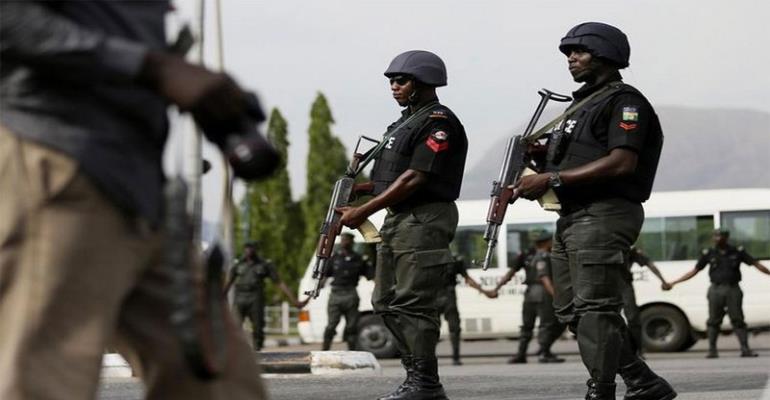 In less than forty days, Africa's most populous democratic nation, Nigeria, will be heading to the polls to elect new political leaders who will oversee the affairs of about 200 million people for the next four years. The general elections will hold in 119,999 polling units across the thirty-six states of the federation.
The national electoral management body known as the Independent National Electoral Commission (INEC) registered over 84 million people out of a voting population of 130 million. Although about 7 million of the registered voters are yet to collect their Permanent Voters cards, the electoral management body and indeed the various security agencies such as the Army, Police and other para-military agencies have assured Nigerians and the international community of their readiness to ensure peaceful general elections come February 2019.
However, despite the assurances by these security agencies and the electoral umpire to conduct violence free elections, there are ominous security threats in many parts of Nigeria which, if not urgently addressed, could undermine the credibility and success of the forthcoming election. This piece, from a civil society perspective, examines how the rising cases of insecurity constitute an albatross to Nigeria's 2019 general elections and recommends actionable panaceas to addressing the menace of insecurity.
Rising cases of insecurity in Nigeria: terrorists, rural banditry, separatist movement and cult groups
The resurgence and renewed attacks of the dreaded Boko Haram terrorist sect in the North East poses a major threat to the 2019 elections. Boko Haram terrorists have laid siege to most parts of Yobe, Borno and Adamawa states and have rendered many potential voters homeless. According to the United Nations Refugee Agency (UNHCR), Boko haram insurgency has led to the displacement of 2.4 million people in the Lake Chad Basin with over 494000 internally displaced persons in Cameroon, Chad and Niger. The report further shows that the North-eastern region of Nigeria remain the worst hit with about 1.9 million Internally Displaced Persons (IDPs) and 47100 IDPs in Cameroon, chad and Niger.
The complex nature of the Boko Haram insurgency particularly with the recent renewed onslaught against the Nigerian Military in Melete, Dikwa and Baga, it will be difficult for the Independent National Electoral Commission's (INEC) permanent and ad hoc staff to reach some of the high risk areas to conduct elections. In fact, many of the Boko Haram ravaged areas in Borno and Yobo states are still highly insecure for the electoral officials to penetrate. Conveying electoral materials to such areas will be difficult and even voters will be reluctant to come out and vote given the present volatile state of affairs.
In the North central region of Nigeria, farmers-herders conflicts have continued to undermine livelihood security and socio-political cohesion. There are currently over half a million Internally Displaced Persons (IDPs) in over two hundred camps in Benue State. Many of the IDPs who registered voters are cannot go back to their homes because of fear of attacks by herders. More recently, the Rice farm, belonging to the executive governor of Benue State, Dr Samuel Ortom was allegedly set ablaze by herders. This gory picture clearly demonstrates how insecure most of the rural communities in Benue state are.
Rural banditry, kidnapping and castle rustling equally constitute a tripod of security challenges to Nigeria's forthcoming general elections. These unfortunate phenomenon have become, recently, more pronounced in Zamfara, Kastina and Kaduna States. In Zamfara , many villages and local Government Areas are under siege by highly armed bandits. The bandits attack villagers, rape women, kidnap people and rustle cattle. They operate from thick forests which are poorly secured. There are also reports that the bulk of the bandits are members of the dreaded Haram group and that money realized from the bandits are usually used to procure weapons.
Also, in Katsina state , the executive governor of the state, Mallam Aminu Bello Masari publicly admitted that his state is currently under siege by armed bandits. He claimed that if the Federal Government does not respond immediately to the rising cases of insecurity in Katsina orchestrated by proliferation of bandits, the 2019 election may not hold in the state. In fact, about eight (8) local government areas are under severe attacks by armed bandits. These local government areas include; Jibia, Batsari, Safana, Dan-Musa, Faskari, Sabuwa, Dandume, Kankara and parts of Kafur, Masari Local Government Area. The bandits in Katsina operates largely from the Rugu forest which is the second largest forest in Northern Nigeria after the notorious, Boko haram infested Sambisa forest. Rugu forest cuts across the Niger Republic, Katsina and parts of Kaduna States and have become a safe haven for criminal elements.
The surge in rural banditry in Katsina state constitutes a major threat to the forthcoming elections in Nigeria. This is because, with incessant killings, attacks and displacement of villagers, eligible voters will be discouraged from voting. In fact, many of the residents in the above-mentioned local government areas in Katsina have migrated to other parts of the state and country for safety. There are speculations in many quarters that several of them are unlikely to return to their destroyed homes until after elections. Furthermore, if urgent steps are not taken to restore peace and security in the affected areas, INEC officials, for fear of attacks, will be reluctant to go and conduct elections in these places.
In the South East region of Nigeria, there is also rise in separatist movement. The most vocal being the Indigenous People of Biafra (IPOB) led by Mazi Nnamdi Kalu. IPOB had, recently issued several calls urging the people of south eastern states not to participate in the forthcoming general elections. The group had, few months ago, ordered a one day sit-at home protests especially in the commercial capitals of Aba and Onitsha. The group is seeking for an independent state known as Biafra from Nigeria. Through their social media and radio platforms, IPOB had made avowal commitments to ensuring that 2019 general elections do not hold all IPOB territory. In the bid to weaken IPOB, the Nigerian military has order and dispatched a special military operation known as operation python dance in the South East. There are fears that IPOB members might engage the Nigeria Army in serious battle or even attack electoral officials during the elections.
In the southern region, there is also the increasing challenge posed by ethnic militia, cult groups and political thugs . The Movement for the Actualization of Sovereign State of Biafra (MASSOB), and the Niger Delta Volunteer Force clamouring for resource control in the oil-rich Niger Delta have created and consolidated a culture of violence acquired through brute force, intimidation and kidnapping. Besides, several secret cult groups are so widespread in contemporary Nigeria and many politicians are also members of these secret cults. Cult groups and leaders are manipulated and exploited by politicians and conflict entrepreneurs to cause mayhem in villages and towns, intimidate political opponents and cause chaos. Recent cult clashes have led to deaths and destruction of lives and property in Ibadan, Makurdi, Oturkpo, Port Harcourt, Yenegoa, among others.
Overcoming these security challenges require coherent and articulate strategies by security agencies, electoral management body, civil society organizations, traditional rulers and politicians.
How can we address the current state of insecurity?
Fundamentally, there is need for improved security surveillance, vigilance and high level intelligence gathering by military and para-military agencies in Nigeria. The Nigeria Army, Navy, Air Force, Police, Civil defence, Immigration and others must collaborate with one another in intelligence gathering and sharing. This is necessary to help identify high risk areas, arrest and prosecute sponsors of terrorism and other unholy acts that threaten Nigeria's national security.
The Police must intensify efforts at arresting and prosecuting criminal elements especially cultists, militias, bandits and their sponsors. Through consistent trainings and retraining in crime detection, counter terrorism management, the police and other para-military agencies should strive to carry out in-depth investigation of security threats assessment of Nigeria and advise the electoral body (INEC) appropriately to ensure that the electoral officials and voters are not exposed to dangers during elections.
Local and international civil society organizations (CSOs) also have immense roles to play in promoting electoral security come February 2019. In this regard, CSOs can help spread security awareness and sensitization messages using diverse platforms. This could take the form of organizing town hall meetings, interfaith dialogue, media especially radio, television and newspapers to disseminate security awareness messages to Nigerians. Although some CSOs like the United States Institute for Peace, CLEEN foundation and, Centre for Democracy and Development (CDD) have carried out security related researches on the forthcoming general elections in Nigeria, the findings of these researches have not been adequately communicated and disseminated to people especially at the local or grassroots levels. Local based CSOs should endeavour to disseminate the findings of these reports especially in indigenous languages.
Traditional rulers as the custodian of the people's culture have strategic roles to play in engendering a violence free election. They should consistently remind their subjects on the need to maintain peace in the forthcoming general election. Security agencies should work closely with traditional rulers and vigilante leaders and members in order to track criminal elements that may threaten electoral security.
Generally, it is obvious that there are diverse security threats to Nigeria's forthcoming general elections. And these threats which include Boko Haram, rural banditry, farmers-herders conflict, militia, gangs or cult groups are ominous in different parts of Nigeria. All hands must be on deck to tame the tide of rising cases of insecurity. The international community must intensify its support to the Nigeria government to ensure that we have free, fair and credible general elections.
Abah Danladi, a civil society advocate and researcher writes from Anyigba, Nigeria.