I know The Strength Of Corruption In Ghana Before I came To Europe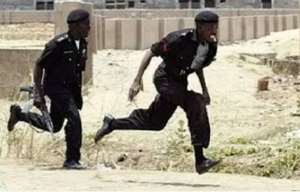 One who sits at home every day will not experience the abusive corruptible powers of a traffic police officer than a commercial driver serving passengers to cater for the welfare of his family.
In Accra, the place where commercial drivers were subjected to abusive psychological torture and corruption is the Motor Traffic Unit (MTU)'s office at Tudu, Accra.
It was a very sunny afternoon around the Kwame Nkrumah circle while driving a taxi, a passenger stops me. Before the passenger could enter the vehicle, a traffic policeman on a motorcycle arrested me for illegal parking and obstruction. That's what he said.
Every commercial driver knew who this policeman was. Within the police force, at the Motor Traffic Unit, in the Accra Central, this police officer had made a name for himself. He was extremely tall, about six feet six inches, muscularly built, with features like that of Samson or Hercules.
His biceps and thighs were very huge. He was so tall on his motor Guzzi that he could easily see the activities of commercial drivers from far. He was a brave and pitiless person. Commercial drivers flew in all directions as soon as signals are sent that Jack Bebley or (Berbley, I am not sure) is in the neigbourhood.
How did he make a name for himself at the Motor Traffic Unit in Accra? He always arrived at the MTU's premises with an entourage of commercial drivers. He could follow more than ten to fifteen vehicles in a row and escort them to the premises of MTU.
You dare to escape when Jack gets you. He had already booked your number, therefore escaping could make your case worse. Among other fourteen drivers arrested for the same offense that day, I was ready to be taken to the MTU.
I know very well that it is always better to free yourself before Jack marches you to the premises of the MTU because when your vehicle is impounded at the police traffic unit, getting it back on the road takes a very long time. They also demand large amounts of bribe from drivers before your vehicle is released. This causes financial loss to drivers.
I quickly hatched a plan to secure my freedom. The late Rose Hart, formerly working at the Accra Sports Stadium, was my mother's neighbour at Sekondi and history repeated itself to be our neighbour again in Accra.
I have visited Rose Hart many times and on each visit, I saw a photo of Jack and the sports instructor taken together hanging on the wall.
"Please, Jack, you don't need to take me to the MTU, you know sister Rose Hart very well, the one at the sports stadium? She is my good friend," I said. Jack knew I am speaking the truth.
―How do you know that I know Rose? Asked Jack.
―Because I saw a picture at her place taken with you, I answered.
Because of the influence of Rose Hart, Jack asked me to leave, but not until losing all the money I have made that day to him. It was a lot of money without anything left for me to buy fuel to continue working.
The rest of the drivers and their vehicles were lined up in a fashionable manner as usual, to the Motor Traffic Unit in Accra. The police know it is wrong to take a bribe from commercial drivers, but they simply don't care. They need it because they are poorly paid. Even if they are well paid, they will still do it.
A police officer once arrested a friend of mine at Kaneshie. What was the offense? He stopped somewhere he shouldn't have. He pleaded while the policeman listened.
- Master, this is my fault, I don't need to argue with you. I am completely wrong. I don't want you to take me to the police station. I will, therefore, give you something small. This is not a bribe but a tip for a bottle of Coca-Cola.
He was shocked when the police took the money from him and said: "You can give the money any name you like."
Over twenty-five years after leaving Ghana, nothing has changed in the country. Ghana could be one of the world's corruptible leading nations, even though it hasn't been officially declared.