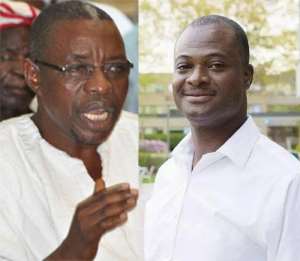 Prof. Avea Nsoh & Raymond A. Atuguba
Per the recent pronouncements of the Auditor General, it is apparent that Prof. Avea Nsoh, would require the sub-standard legal services of Prof. Atuguba at the Law Courts of Ghana in order to attempt vainly to save him from a possible jail term.
Prof. Avea Nsoh, who criminally reduced his age by up to 10 years to enable him continue working in a public institution (University of Education, Winneba, hereinafter referred to as UEW), is certain to face the music that he has bargained for.
Prof. Avea Nsoh was not under any compulsion whatsoever from any source to reduce his age. He reduced his age (falsification of an official document, in short forgery) with intent to defraud a person, thus UEW (note that UEW is an artificial legal person in the eyes of law), or with intent to evade the requirements of the law (the law requires that a certain category of public sector workers which includes Prof. Avea Nsoh, retires at age 60), shall be guilty of a misdemeanour.
The above is a clear and unambiguous provision of section 159 of the Criminal Code 1960 (Act 29).
Under section 296 (4) of the Criminal Procedure Code 1960 (Act 30), a person convicted of a misdemeanour shall be liable to imprisonment for a term not exceeding three years.
This is what Prof. Avea Nsoh, has wormed himself into, in addition to the surcharges that await him.
With the current loosing track record of Prof. Atuguba at the Law of Courts of Ghana, the reasonable person does not foresee Prof. Avea Nsoh, heading in any particular direction, other than Nsawam or a similar set-up.
The ongoing UEW disciplinary proceedings against Prof. Avea Nsoh, would most likely end with a non-custodial pronouncement, since UEW has no direct power to prosecute.
Therefore, instead of being a free man at the end of the UEW disciplinary proceedings, Prof. Avea Nsoh, is certain to have his freedom curtailed by the Auditor General for forgery of official documents with intent to circumvent the requirements of the official retirement age.
All those 'active service pensioneers' trooping to the Auditor General's office to plead for clemency, are advised that the surcharges that await them, are enormous, so cutting down cost is the way forward at this time.
For example, per the prevailing Bank of Ghana interest rates, Prof. Avea Nsoh, would be required to pay back to the State, in excess of Ghc 100,000.00. No amount of bribery, arm twisting, pleadings, or voodoo can stop this, Insha Allah!!
Alhassan Salifu Bawah (son of an upright peasant farmer)