Domestic Fire At Yuletide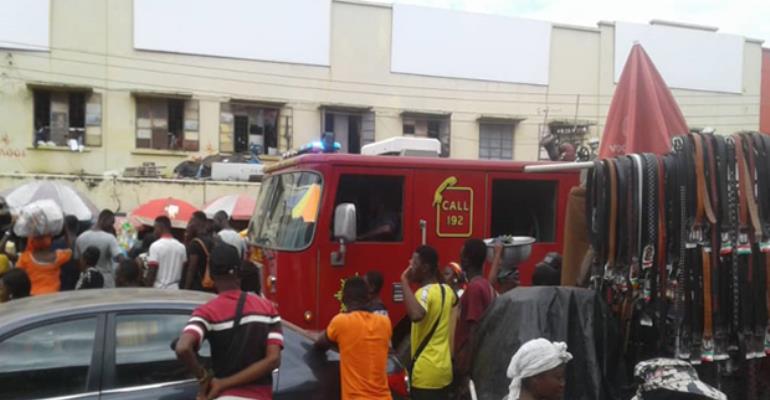 During the Yuletide, Accra Central witnessed a fire which tested the responsiveness of the Ghana National Fire Service (GNFS) to emergencies.
A prominent structure, Officer Ali Memorial House, belonging to a long gone Gold Coast Constabulary soldier, went up in flames. But what baffled those who witnessed the action or otherwise of the GNFS whose main Accra station, the first one in Accra near the central lorry station, was the inability of the firefighters to control the fire before the structure was gutted; thankfully without casualties.
Many expected that given the walking distance between Accra's oldest fire station and the fire scene – less than five thousand meters – the fire fighters could have accomplished their mission within a record time. That was not to be as many hours elapsed before the fire was brought under control.
Perhaps their only accomplishment equally important though, was that they stopped the fire from attacking adjoining buildings which could have been disastrous.
Various excuses account for the shortcoming of the firefighters; one being the absence of hydrants in the neighbourhood to feed them with water and the challenges in moving the fire tenders swiftly from base to the fire scene.
Considering the cost of maintaining a standing fire brigade, an essential feature of modern societies, we think that no stone should remain unturned towards ensuring its efficiency.
It is unacceptable that a fire whose start was immediately relayed to the nearby fire station could not be subdued until it consumed so much in terms of the structure of one of the oldest structures in Accra Central.
What this tells us is that in the event of an inferno there could be a disaster because the fire fighting structure is not primed to handle such situations regardless of possessing very expensive fire tenders.
This is not the first time that we are asking that the hydrants, some of them swallowed by new structures, are established at vantage points of our urban centres.
Indeed important questions should be posed to determine the cause of the fire brigade's inability to quell the fire in a record time. It would be worthwhile to find out from persons who claimed they went physically to the fire station to inform them about the emergency and why the necessary reaction appeared absent until much later.
The fire fighters' story should be heard too so a future recurrence can be managed more efficiently.
Something accounted for the poor management of the fire and unless a probe is ordered, the important lessons to be drawn would be lost.
Spending so much public funds to equip the GNFS yet look on as challenges such as lack of hydrants and near impossible movements of fire tenders through human traffic, are obvious queries requiring attention.
With the onset of the harmmattan, the proneness of structures to fire outbreaks is high and all must watch out especially the GNFS.