Noah Care Foundation launch in Accra Ghana.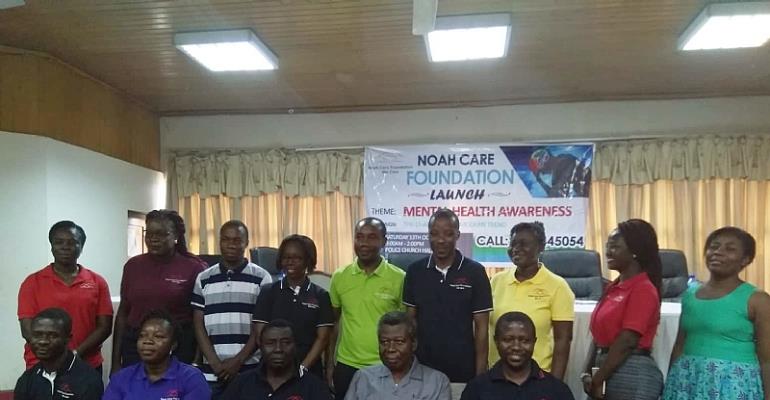 Noah Care Foundation was launched in Accra Ghana on October 13th, 2018 at Police Church Hall, as part of the Mental Health awareness week celebration. Noah Care Foundation (NCF), is non-profit gaining, independent Non-governmental organization (NGO), registered charity in Ghana with the aim of linking professional local and abroad to share their skills in improving local service providers in healthcare and education. NCF was founded by Mr Noah Kantoh, experience mental health worker, originally trained and worked in Ghana and currently working in UK. NCF is registered in Ghana since
9th September 2016 with registration No: CG052582016.
The theme for the launch of NCF was: Mental Health Awareness Campaign, topic: the challenges in modern trend. In line with the global mental health week celebration which the Ghana Mental Health Authority had already planned a scheduled activity. Over 170 Participants attended from different work places and community mostly in Accra.
The event was chaired by Hon Emmanuel Asiedu Mante (Rtd Deputy Governor of BoG). On his key note address he mentioned that mental health issues and challenges in Ghana is not new, as the government has been struggling in managing the nation resources in the care of mental health patients in the already existing 3 psychiatric hospitals in the country. He lamented that mental health care in Ghana has never been adequate as it is in his personal observation, he can count how many mental patients he sees everyday walking on the main streets in cities around the country, especially the countries capital Accra. Where these patients results in begging for alms for food and sometimes leaning on cars whiles, trying to find food to eat and thereby endangering themselves.
He recollected hearing that the major Psychiatric Hospital in the city, Accra Psychiatric hospital, threatening strike due to poor facility and lack of supply by government recently. He however indicated that as long as mental health care in Ghana is concern, what he sees being new is what the founder of NCF is doing, by mobilising support to assist in caring for the vulnerable mental health patients who are unaware of their circumstance and cannot recognises the hazard they encountered daily. Hon Asiedu Mante admitted having less knowledge in mental healthcare but understood that, vulnerable mental health patients' needs to be taken care of and therefore it's the country's social responsibility to support them.
The founder and director of the foundation, Mr Noah Kantoh provided the welcome address on behalf of Noah Care Foundation. Mr Kantoh welcomed the audience and reported that the NGO was born out of his vision as a Ghanaian mental health specialist working in the UK to help strengthen Mental Health Care delivery in Ghana. He added that as a trained mental health nurse in Ghana his experience in the UK, had really exposed him to the huge gab existing between mental health care delivery in Ghana and that of the developed country like the UK. It is therefore his ultimate goal to bring the knowledge acquired in UK, the strong network of mental health experts that he had built within and outside the country to collaborate and to help take mental health delivery in Ghana to a much higher level for the relief of mental health patients in Ghana.
Mr Kantoh pointed out that: as human-beings, we all have mental problems in one form or the other. However, the problem is how to find help or support easily.
While commending Mental Health Institution in Ghana for their efforts in this direction, and by passing the Mental health Act 2012, there appears to be a lot more to be done. Noah Care Foundation has come to assist in addressing these challenges in bridging the gap in service delivery in Ghana.
NOAH CARE FOUNDATION: WE CARE
Mental health professionals from Accra Psychiatric Hospital and Pantang Hospital lead by Mr Elvis Akuamoah-Senior Nursing Officer, Pantang Hospital (NCF trustee) and Mrs Millicent Adu-Community Mental Health Nurse-Legon district (NCF Organizer), as well as other Community mental health professionals aided in facilitating a discussion in the mental health awareness campaign. Views were shared from the public about ways of supporting individual with mental health problem. The director of NCF pointed out how the foundation will be helping to bridge the gap in service to support the mentally challenged people.
Mental illness is considered a silent epidemic throughout most parts of Africa. Owing to structural and systemic barriers such as inadequate health care infrastructure, insufficient number of mental health specialists, and lack of access to all levels of care, mental illness has been characterized as a neglected and increasingly burdensome problem affecting all segments of the population throughout Africa. Prioritizing mental health has also been difficult due to lack of resources, limited funding and ineffective mental health policies.
The World Health Organisation (WHO) estimates that between 35% to 50% of people with severe mental health problems in developed countries and 76% to 85% in developing countries receive no treatment.
The question is, who will advocate for these vulnerable people?
Globally, more than 3260 million have mental health problems. A study by World Health Organization found that such disorders cost the global economy $1 trillion every year.
NOAH CARE FOUNDATION: WE CARE
Volunteers are continuously recruited from Ghana and abroad to support the aims and objectives of the Foundation to bring efficient and effective healthcare and education to the door step of people in Ghana.
The Foundation supports mental health patients on the street and integrates them to the society. With the help of nurse volunteers and community volunteer members, mentally challenged individual was supported at Mampong-Akwapim in Eastern region of Ghana. Support was sought through the Foundation network. The Challenged individual was taken by the Foundation to a place of safety (Pantang Hospital) for assessment and treatment. The Foundation identified the family and informed them of their ward.
The Foundation supported the individual in the hospital with medication until discharged into the community within 6 weeks of treatment. The Foundation continues to offer support materially and financially to the family and the individual. The priority of the Foundation is to seek to support individuals with mental health issues, asses their mental states, provide support even outside working hours volunteers to ensure they are sound and safe to integrate them to society and support professional volunteers to offer expect services to the needy individuals.
Furthermore, the Foundation have volunteer nurses who visit mental health patients at their homes, who had used mental health services and had been discharged in the community for re-integration, continue advice and support is been given to these individuals to reduce stigma and sign-post them.
Educational forums are been instituted in the communities (churches, work places etc) to educate the public on the need to use mental health service and direct people to the appropriate community centres available in Ghana for community mental health nurses to see them instead of hospital attendance.
The following are the other leaders and volunteers for Noah Care Foundation in Ghana. George Otu- NCF Excutive Secretary, HR personnel, National service-UPSA, Patricia Dufie-Co-director, Nurse Manager, Senior Nursing Officer, GHS, Accra Psychiatric Hospital, Community Mental Health Nurse, Legon District Hospital, GHS, Ms Dorothy Essuman- Treasurer, Senior Peri-Operative Nurse, 37 Military Hospital, MoD, Accra, Ghana, Michelle Okyerebea Asante-Youth Organizer, Law Student, Central University, Ghana and Carol Sakyiwa Greene-Project officer, HR manager, MoE/Law student, UPSA.
NCF Board of Trustees includes: Mr Emmanuel Okyere Asante- Chair, Rtd Head of Marketing, Ghana Standard Authority, Ghana, Mr Joseph Aboah-Vice Chair, Banker, Bond Savings and Loans, Ghana, Martha Amoh-Medical link, Senior Physician Assistant, GHS, Ghana, Mrs Amma Amoako-Advisor, Banker, BoG, MoF, Ghana, Mr Ebenezer Anokwah-Educator, Principal Nurse Educator, Korlebu NMTC, GHS, Ghana, Ms Nancy Akrofi-media link, Ghana Broadcasting Cooperation, Ghana.
If you feel moved by the causes Noah Care Foundation promotes, we would very much appreciate your support. Set up your donation to Noah Care Foundation today. It's easy and most importantly, it will make a major difference in the lives of so many who are in need of help.
Come and join our volunteer recruitment drive and/or Sponsor a volunteer to make a difference.
NOAH CARE FOUNDATION: WE REALLY CARE
Every person has the chance to make a change for good — no matter how big or small. Whatever amount you can give, or time you are willing to dedicate, know that your contribution makes a difference in the lives of others. Your donation, together with those of our other supporters, brings us ever closer to our goals.
"Kindness is the language which the deaf can hear and the blind can see".
Donation of clothes, cash, Cheques or Money orders to:
Noah Care Foundation, P. O. Box MD 2092, Madina, Accra Ghana. Account Number:0520084646120101, Ecobank, Ghana. Mobile Money to: 0549933555
MTN, GHANA
OFFICE LOCATION
H No. 164/4
P.O. Box MD 2092
Agbotui Avenue
Madina-Accra
Ghana
Tel: 0549445054
Email: [email protected]
Website: www.noahcarefoundation.