National Cathedral And Matters Arising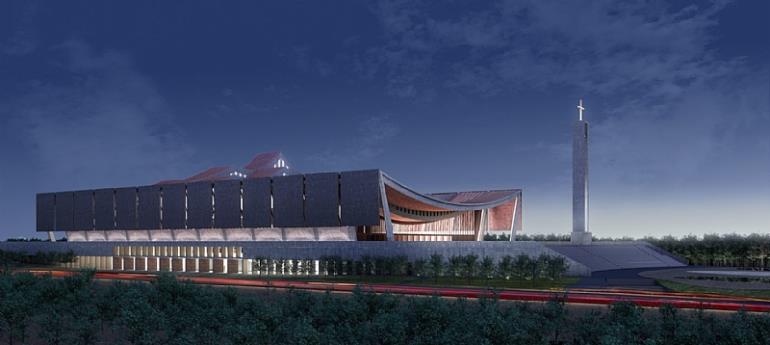 The National Cathedral of Ghana is a planned interdenominational Christian cathedral that is intended to be built in Accra as part of Ghana 's 60th Anniversary celebrations. The design for the cathedral was unveiled by the President of Ghana, Nana Akufo-Addo, in March 2018.
Location
As it stands, the new building will stretch alongside the Osu Cemetery and takeover land holding the Ridge roundabout, the Scholarship Secretariat, the Judicial Training Institute, the Passport Office and the residences of twelve judges. All of those buildings would be demolished and relocated elsewhere.
The national cathedral will be surrounded by more than five hectares of landscaped gardens, will serve as a place of worship and a community hub that will encompass several chapels, a baptistery, a school, an art gallery and Africa's first bible museum.
The reason for the cathedral among the early reason was to thank God for giving Ghana peace and security but of late we also hear it was a promise our president made to God that he will build for him a cathedral as was done by Solomon.
When we talk about peace it was not on a silver platter God gave us leadership which constructed dams, water, electricity, roads, bridges, schools, hospitals, a health insurances scheme all for our comfort and well being; it is these which gave Ghanaians hope that stabilises the social order even though we are still facing endemic economic and social problems and challenges, it is the ability of our leaders to satisfy our needs and well being that sustains stability of our nation.
Do you think that if successive governments were only building churches and cathedrals ignoring our welfare and social needs Ghana will be stable without a revolt?
So, I do not want anyone to scandilise the name of God on ventures that is a personal agenda and has no true meaning to our national development and cohesion.
Almighty God will not want this wanton destruction of properties and the attendant economic and financial loss and displacement to be done in his name.
To the glory of God is development, social, economic well being of his children
this adventure is not and it's a pity that intelligent people can succumb to priests , pastors and soothsayers that such an adventure is to the glory of God.
Even if I am the chief Satan or an angel of the devil, I can assure those who call any critic of the cathedral as an enemy of God; that we will not do this in our satanic and demonic minds ignoring basic urgent national needs as simple Ambulances, Roads, Hospitals, Schools and other infrastructure ( the Nsawam - Apedwa road leading to Kyebi , Adenta footbridges killing and maiming Ghanaians the very children of God they proclaim to adore and worship like King Solomom and the temple).
But like in the 21st century if a whole president is bent on building an edifice because he made a promise to God, this is frightening as nobody knows where the next prophecy and promise he made to God will take Ghana to.
VENUE
Joy News' Samson Lardy suggested on Newsfile that the cathedral should be built on vacant land.
"These fresh naked lands are not suited for our cathedral. We won't go anywhere else if you like go burn the sea," Lardy wrote in a Facebook post.
But the former Lands and Natural Resources Minister, John Peter Amewu, refuted those claims and said they were very strategic about where they planned to build. , he told Joy FM that "we're looking for a very prime area that will fit the status of the kind of building that the committee envisaged."
let's assume for a moment that we need a National Cathedral why should we destroy so many properties running into millions of dollars to locate our Cathedral?
When they say the government is not going to fund it, its such a ruse just to mislead the public, all the properties to be destroyed by demolition apart from the financial loss will have to be rebuilt by the State and this will cost the state millions of dollars.
Let's take the one of the Judges alone, for the moment they were all moved out of the official residences and private properties were rented out for them at Cantonments, the rent we are told cost $4,500 dollars for each apartment and two years advance was paid so take the 12 judges $4,500 x24 x12.
is it not the state that paid for this, Ridge roundabout, the Scholarship Secretariat, the Judicial Training Institute, the Passport Office and the residences of twelve judges. among other properties demolishing and rebuilding will cost the state hundreds of millions of dollars.
Contrary to earlier claims by government that it was not going to fund or spend tax payers' money on the construction of the National Cathedral, it has now emerged that the state will provide the seed money for the project.
Deputy Minister Information, Pius Hadzide, had clarified that, the entire cost of the project, as well as the temporary accommodation for the affected persons, would be taken care of by private institutions and individuals.
"It is not correct that the state was going to be wasting public resources on building that cathedral. Building of that cathedral will primarily be funded by voluntary contributions from the Christian community, philanthropists and with grants from development partners, he said.
But it appears the government has now backtracked on its position. This is because; Finance Minister Ken Ofori-Atta, whiles delivering the 2019 budget statement in Parliament, disclosed that government is among other things providing the seed capital for the construction.
He however failed to mention how much government will commit as seed money to the project.
"The state is facilitating this process by providing the land, the Secretariat, and seed money for the preparatory phase."
"This National Cathedral partnership framework operationalizes, and indeed is a practical expression, of the social partnership envisaged to foster participatory development of the country as our collective goal," he added.
So why are we pretending it is nothing of state expenditure but private funding and who were we deceiving? if we need a National Cathedral at all is this the only venue and location that it could be built? Is this not a waste of public expenditure and a deeply fraughted priority?
SALARY DONATION
"President Akufo-Addo has donated his November salary as his contribution to a fund set up at the National Reconstructive Plastic Surgery and Burns Centre at the Korle-Bu Teaching hospital.
President Akufo-Addo made this donation on Wednesday, December 5, 2018, when he commissioned a new facility for the National Reconstructive Plastic Surgery and Burns Centre (NRPSBC), on day-2 of his 3-day tour of the Greater Accra Region." it was reported.
The Centre was established to cater for patients suffering from acute burns and its complications, birth defects including cleft lip and palate and hand anomalies, injuries to nerves, tendons and blood vessels, complex wounds, and skin cancers.
The rent of the Judges apartment paid for by the state i.e. $4,500x24x12 totals $1,296,000 (one million ,two hundred and ninety six million dollars), if the President had not moved out the judges from their official residences and pay rent over one million dollars, couldn't this money have been donated to the Unit instead of his one month salary? But sadly this shows his national priority and the use of our meagre national resource.
IN GOD'S NAME
HOUPHOUET- BOIGNY
In 1987, President Felix Houphouet-Boigny had a dream from God: Why not build a majestic cathedral for Roman Catholic worship in the sleepy place of his birth that would be the envy not only of Africa, but all the world? The fanciful inspiration reportedly cost of between $350-$600 million of what the 85-year-old ruler calls his "personal fortune."
"This is an amazing place. Like a gigantic white parachute, the brilliant dome of the basilica looms over a clearing in the forest, the peak of a colossal structure of marble, stained glass and bronze that dominates this city of 50,000 inhabitants''.
"The basilica is the biggest church ever built, 525 feet tall, with acres of hardwood pews, a marble plaza big enough to accommodate 300,000 worshipers, a dome that is higher and wider than St. Peter's in Rome and a golden canopy of brocade that reaches nine stories above the central altar. In many ways his dream came true.''
A western correspondent wrote.
Built by some of Europe's finest artisans and craftsmen, the basilica boasts a separate 40-room mansion with a swimming pool. It is intended for the pope's use only.
Houphouet-Boigny, who wanted to have his body lie in state beneath the basilica's grand cupola when he dies, offered to make a gift of his church to the Vatican upon its completion.
Was Ivory Coast saved from a civil war? this basilica was just a pretext for his tomb and burial ground at the whopping cost of $600 million dollars?
UFOS
Former Grenadian PM Sir Eric Gairy said that he had come before the UN because of a 'deep personal conviction' that UFOs( Unidentifiable Flying Objects) were of 'worldwide importance and significance.'( he had a divine intervention)
As an UFO believer he thought that there's a huge international cover-up of extraterrestrial visits - so naturally, they love this 1978 hearing.
He said that the UN needed to 'come alive to its responsibilities and take a serious look at the UFO phenomenon to which planet Earth has been conspicuously exposed'. The leaked cable said, 'As anticipated, Grenadian PM Sir Eric Gairy addressed the special political committee on Agenda Item 126, and introduced a resolution (datafaxed), which would establish an expert group to set guidelines for a UN study of UFOS. Wasted all his countries resources on UFOS.
PAPAL BULL OF DEMARCATION
In theory, by divine intervention the Treaty of Tordesillas divided the New World into Spanish and Portuguese spheres of influence. The treaty amended papal bulls issued by Pope Alexander VI in 1493. These declarations had granted Spain an exclusive claim to the entirety of North and South America
On June 7, 1494, the governments of Spain and Portugal agreed to the Treaty of Tordesillas, named for the city in Spain in which it was created. The Treaty of Tordesillas neatly divided the "New World" of the Americas between the two superpowers. ... All lands West of that line were claimed by Spain and East by Portugal.
POPE PIUS V'S BULL AGAINST ELIZABETH 1 (1570)
"Pius Bishop, servant of the servants of God, in lasting memory of the matter. He that reigneth on high, to whom is given all power in heaven and earth, has committed one holy Catholic and apostolic Church, outside of which there is no salvation, to one alone upon earth, namely to Peter, the first of the apostles, and to Peter's successor, the pope of Rome, to be by him governed in fullness of power. Him alone He has made ruler over all peoples and kingdoms, to pull up, destroy, scatter, disperse, plant and build, so that he may preserve His faithful people (knit together with the girdle of charity) in the unity of the Spirit and present them safe and spotless to their Saviour.''
In obedience to which duty, we (who by God's goodness are called to the aforesaid government of the Church)..... That's how the Bull read against Elizabeth 1 in God's name.
JUSTIFYING AND PERPETUATING SLAVERY
Pope Nicholas V issued the Papal Bull Dum Diversas on 18 June, 1452. It authorised Alfonso V of Portugal to reduce any "Saracens (Muslims) and pagans and any other unbelievers" to perpetual slavery. This facilitated the Portuguese slave trade from West Africa.
The same Pope wrote the bull Romanus Pontifex on January 5, 1455 to the same Alfonso. As a follow-up to the Dum diversas, it extended to the Catholic nations of Europe dominion over discovered lands during the Age of Discovery. Along with sanctifying the seizure of non-Christian lands, it encouraged the enslavement of native, non-Christian peoples in Africa and the New World.
CRUSADERS
In 1095, Alexius sent envoys to Pope Urban II asking for mercenary troops from the West to help confront the Turkish threat. Though relations between Christians in the East and West had long been fractious, Alexius's request came at a time when the situation was improving.
In November 1095, at the Council of Clermont in southern France, the Pope called on Western Christians to take up arms to aid the Byzantines and recapture the Holy Land from Muslim control. This marked the beginning of the Crusades.
The Crusades were a series of religious wars between Christians and Muslims started primarily to secure control of holy sites considered sacred by both groups. and also including the suppression of paganism and heresy, In all, eight major Crusade expeditions occurred between 1096 and 1291. The bloody, violent and often ruthless conflicts propelled the status of European Christians, making them major players in the fight for land in the Middle East.
Did you know? In a popular movement known as the Children's Crusade (1212), a motley crew including children, adolescents, women, the elderly and the poor marched all the way from the Rhineland to Italy behind a young man named Nicholas, who said he had received divine instruction to march toward the Holy Land.
All these were done in the name and of Glory of God but what does history tell us?
CHAPTER SIX of the 1992 Constitution of Ghana under THE DIRECTIVE PRINCIPLES OF STATE POLICY provides:
Art.36.
(1) The State shall take all necessary action to ensure that the national economy is managed in such a manner as to maximize the rate of economic development and to secure the maximum welfare, freedom and happiness of every person in Ghana and to provide adequate means of livelihood and suitable employment and public assistance to the needy.
(2) The State shall, in particular, take all necessary steps to establish a sound and healthy economy whose underlying principles shall include..........
setting out to destroy all these properties and rebuilding them at a cost of in hundreds of millions of dollars is a violation of the 1992 Constitution and also a crime of Willfully causing financial loss to the state contrary to sections 23 (1) and 179A(3)(a) of the Criminal Offences Act, 1960 (Act 29).
The Council of State, Chiefs and Civil Society are all moaning silently, but looks on while the President to satisfy his, egregious and obsession of Solomon incarnate as was pronounced by he and Duncan Williams at the fund launch on the 28th December, ignores all the wise counsel on the road for his gargantuan cathedral project and like Felix Houphouet-Boigny his future burial ground.
God bless our homeland Ghana.
JOHN ADDAI
[email protected]
41.210.14.251
Ghana