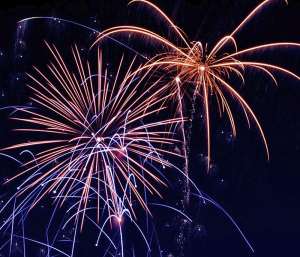 "Was anyone born to be an aunt or a busy bee to come, to live and work, to die again without a trace? Or have we not all inherited the genes and spirit of greatness?"
They stood in the middle of Black Star Square in the heart of Accra feeling the cold freeze refreshing their bodies that had suffered from the heavy Hamathan having hit West-Africa this year seriously making breathing a problem. Poor people lit up their fireworks while rich people stood behind them with bottles of Champagne in their middle and Auster's between their teeth.
"Created life does not make any sense if in its core greatness is not rooted…but to bring it out this process is based on revelation, decision, self-reflection and consciousness, and the never-ending will to humble ourselves under the conditions that make it possible to achieve individual calling…creation and our greatness…yet only few discover and follow these rules a life-time…," looked Kwame into the skies that were filled with bright colours to greet the new year, the new chance in life.
Kojo passed the bottle of Champagne and Bofruts smiling at his friend: "Let us not think too much of life…let us simple live and enjoy it." He looked around seeing people that are suffering under the self-inflicted hardships of their country Ghana able to forget for a moment having to beg friends and family for financial support. "After all," he added with sarcasm in his voice, "this world does not change only with words…actions have to follow ideas and demands. Evidence is the only prove of success…."
Kwame walked closer to the Gulf of Guinea seeing the full moon shining unto them reflecting the week past: "We as a Nation have come so low that a woman on Adom FM radio station deported the other week from Germany back to Ghana is complaining about her treatment even knowing only too well that she had entered illegally from Italy and made babies in Germany to stay misusing the good social system Germany has to offer."
"Do not forget the thousands of Ghanaians Donald Trump had deported this year back to Ghana with more in the pipeline to follow in the New Year," reminded Kojo seeing the gigantic container vessels passing by without a stop in Tema, from Europe coming heading for Nigeria.
"Brother…we know ourselves…and no white man needs to tell us…that our mind is not correct…something is seriously wrong with us as people and Nation!"
Kwame smiled with weary eyes: "My Pastor has told me each year his congregation would give something to him, only this year there was nothing in his house from them…that is how difficult our times are. He also said that the atmosphere in Ghana these days is so poisonous, that when you want to speak your mind, the chance of you to be killed is very likely. What we have known only from Togo, has now reached our country under our old President. We are people that do not like to hear the truth after all, but we want change…and change only comes with embracing the truth and go for results to manifest the truth…simple as that."
"Politics is not based on reality but the perception of it and to have eyes to see, ears to hear and hands to work for what is right and wrong, is not given to all men."
Kwame starred at the Stadium just before their very eyes during good times a place of victory for the Black Stars saying sadly: "Societies in Germany, Europe and America are on the road that their work force is demanding to work less and less having reached their high level of living standard passing this demand on to their next generation which eventually will make their societies go backwards…."
"You mean, becoming rich means becoming lazy?"
"Yes, at a certain level the curve of success is declining. After World War II people worked hard, were taking risks and constructed their Wirtschaftswunder. But when you are no longer hungry, you have separated yourself far from poverty and darkness; have seen the light of a country with milk and honey…other Nations that are on ground Zero but have educated themselves with cleverness, with wisdom, have decided to pull up their sleeves and claim their right to live a glorious life…will sooner or later overtake the former champions that think they know it so much better not realizing someone that has nothing to lose, has everything to gain." Kwame was holding his lecture. He looked at Kojo that was lifting up a small stone, threw it far into the ocean. The stone was sinking immediately to the ground. He said to him with worry in his voice: "You look so sad, my Brother…a bit tired!"
Kojo got up, stretched his legs and straightened his back: "God and I have something in common…we…."
"What do you mean…you two have something in common? Hard for me to understand and believe."
Kojo looked deep into the eyes of his friend as if his soul wanted to plant a life-changing message into his heart: "We are tired of Ghanaians…simply…so, so tired. They know everything that is needed for a better, for a glorious life…but they are ignorant. Taking…busy bodies talking…that is what they are!"
Kwame took his hand making as gesture as if he wanted to kiss it and said: "You mean…we Ghanaians should enjoy our poverty?"
"Life is by decision…and by decision only!" Kojo looked into the sky feeling the cold breeze of the Gulf of Guinea on his skin making him shiver; goose bumps all over his body.