Accra bourse in another poor performance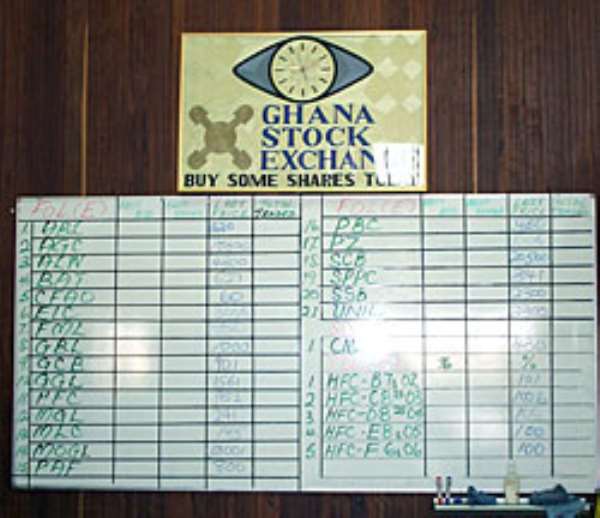 Accra, Nov. 22, GNA - The Ghana Stock Exchange (GSE) put up another poor performance in trading on Tuesday as investors continued to show lack of interest in the bourse.
The GSE All-Share Index, the main market measure, ended almost unchanged gaining a mere 0.06 points at 4,899.61 points from 4,899.55 points.
Only 24,400 shares changed hands, down from 47,300 shares on Monday.
There was only one price change, a one-cedi gain by Guinness Ghana Breweries at 7,657 cedis.
Change for the year remained the same at -27.93 per cent while market capitalisation improved slightly at 92,205.93 billion cedis from 92,205.77 billion cedis.
The following are the last prices of the listed equities in cedis:
ABL 1,480 AGA 300,000 AADs 3,000 ALW 5,008 BAT 3,300 BOPP 6,000 CAL 2,000 CFAO 405 CLYD 1,000 CMLT 1,800 CPC 600 EIC 7,000 FML 15,660 GCB 6,748
GGBL 7,657 +1
GWEB 550 HFC 6,800 MLC 2,500 MOGL 38,000 PAF 800 PBC 3,000 PZ 6,500 SCB 134,000 SPL 580 SPPC 390 SG-SSB 7,865 SWL 290 TBL 27,900 UNIL 15,500