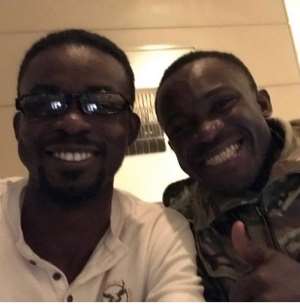 Kingsley Asiedu the brother of embattled CEO of Menzgold Nana Appiah Mensah has threatened to sue any news agency which dares to publish articles linking him to the company. This is after aggrieved customers of the company in the UK and Spain shared their plight and how they have been left with nothing since the collapse of Menzgold.
The first news article also told of how Kingsley actively promoted and convinced Ghanaian residents in both countries to invest into his brother's company. He was Menzgold's PR manager and was seen with Nam1 during the launch of the branches in the UK and Spain. He actively shared in the luxury and wealth of his brother and now has also gone into hiding since the Menzgold saga began, leaving the customers he lured to invest to their peril.
Kingsley has tried to distance himself from Menzgold claiming he had no direct involvement in the affairs of the company but was only helping to promote his brother's business. This however does not explain how he was able to travel around the world in private jets and fund his extravagant life style on the wages of a soldier.
In a recent confrontation with a customer he is quoted as saying " Blood is thicker than water so will never give away his brother". He also intends to face any customer of Menzgold who challenges him as no one complained or shared their dividends with him when the company was still operating.