Yaya Jammeh Will Kill More People and Steal Most Public Money by any Chance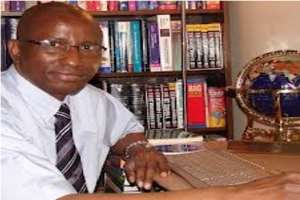 The Author
In the wake of recently concluded AFPRC congress declaring Yaya Jammeh as their candidate for next Presidential election, this message is for whole of Gambia.
First to remind you that there are up or even more than 100,000 (One Hundred Thousand) capable persons that Gambia is open to make good choice of presidential candidate from.
Yaya Jammeh misruled Gambia for more than 22 years. During those bitter years, he looted and killed at his whims and caprices. He demonstrated most ugly nature of greed and brutality. He made himself richer than government and entire people of Gambia's national wealth combined.
With dirty meddling hands, Yaya Jammeh destroyed the good social fabric of Gambia by playing head on head between family and friends.
Gambia experienced war like state of terror and petrifying tension in typical police state outfit. So many people disappeared without trace including good citizens of Ghana and other West Africans. Several individuals and groups were extrajudicially killed and no trace of their body till this day.
Talk about bringing Yaya Jammeh is telling Gambians to get prepared for war. Yaya is desperate for power and so eager to kill more people perceived as his opponents.
Before the 2016 presidential election where Yaya Jammeh suffered humiliating defeat, Gambians have been advised not to give him chance for a 5th Term. Whatever happed, it turned out that Gambians gave their back to a serial killer and notorious economic criminal Yaya Jammeh.
It is bitter insult and deep cut in the flesh of Gambians to think about allowing Yaya Jammeh becoming Gambian president again in life.
For more reasons Yaya Jammeh is not suitable to be Gambian president, check this link:
https://jollofnews.com/2016/04/01/why-gambias-yahya-jammeh-is-not-suitable-to-contest-elections/?fbclid=IwAR1fAWXCQ9Dt3K4U45zgPymPv5eAvf9EMqwCWJx9b2yBEvWCBItR1ZjqsgA
Remember there are more capable individuals suitable to lead Gambia. Choosing a criminal and thief like Yaya Jammeh is wrong. When Jammeh finished with court cases looming over his head, he may be faced with sleeping somewhere different from State House Banjul. Forward with Gambia. No more dictatorship and rampant corruption. Better Gambia for all.