The America That Is Not For Me: Part 2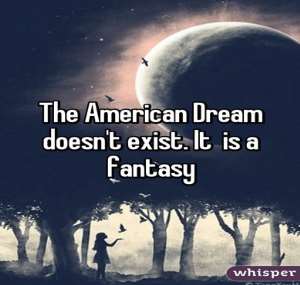 "Do you have original copies of your documents?" a staff from the human resource office asked me.
"Yes, I do."
I was at this particular company to turn in a job application. I applied for this job and at this company because the person who recommended this employer and accompanied me there in person to fill out a job application had worked there for several years before enrolling in a nursing school. She is a nurse now. This person had fond memories of the place and even appeared to know a number of persons who still worked there. This person was also a close friend.
This company offered a broad spectrum of services to persons with developmental and intellectual disabilities, the kind of job I have substantial experience in, also the kind of environment I knew I wouldn't have to reinvent the wheel if I was employed. I also knew right away that I was going to be comfortable with this potential employer on the basis of the fact that I was already intimately familiar with the complex landscape of this environment.
This intimate familiarity gave me a sense of power, accomplishment, and control over my newfound fate in the heart of Colorado, a relatively quiet and hymenal place compared to boisterous, promiscuous and intimidating New York.
I jumped into this fruity oasis called Colorado and flew all over it like an unhinged bird of paradise, flapping my untethered wings with the remarkable tendency of gracious celerity, like the diarrheic tongue of a narcissistic cuckold and bully who calls himself the president of the United States, a country whose citizens this president has imprisoned in the strangulating jaws of a landlocked psychology.
But I didn't deceive myself I was already in the melodious grips of a paradise.
I knew better than to step ahead of myself in a foreign land whose culture, politics, weather, and hospitality I was yet to fully acclimate myself to.
I couldn't allow myself to be fooled twice, to be bitten twice by the same poisonous snake of social injustice and racial discrimination and economic injustice, as my self-ingratiating shadow from New York continued to watch over me, chaperoning my every calculating move with an intense guilt of malodorous flatulence.
Before we knew it, my friend and I, time was up for us to vacate the lobby of my potential employer.
We stepped out into the open arms of the company's parking lot after having officially turned in the job application, with my friend's little son in tow.
We collected ourselves into our waiting car, bundled up the boy in a car seat, and sped off. On the road, we didn't utter a word to each other for a good part of the trip home. I was by then in a deep contemplation mode regarding my potential employment and my hopeful familiarity with the job description and, with sparkles of subdued bubbles of elation breaking out on my clenched lips intermittently, coupled with the unfamiliar unknown also pushing me beyond the receding boundaries of euphoria, the raging words of my friend's tore me away from the gripping happiness of my crazy world, a world imbued with intimate quanta of haunted daydreaming.
I turned to look at her hoping to see whether there was a glimmer of chance that, somehow, I could begin to set myself on a peaceful journey of appreciating the emotional and intellectual depths of that tempered human being, the provenance of those raging words that tumbled out in an intense storm of painful intimation of what would later turned out to be true about institutional corruption in America.
I threw another questioning look at the slack-jawed face for a second time. But she didn't move an atom of her body habitus to even acknowledge that I was looking askance at her, instead preferring to remain in the agoraphobic stillness of a scarecrow.
That lukewarm physiognomy stood stone-cold in the emotional nonchalance of the rear-view mirror.
To tell you the truth, no ruffling of the human feathers of that gracious, unfrivolous physiognomy of a dear friend.
Beads of sweat began to break out on my person in droves. And out of nowhere her glottis exploded in a fit of thunderous righteous anger, saying "These people are wicked. Very, very wicked people. In spite of all the money they got from the state, local and federal governments, they continued to treat their clients as though they were animals. Their frigid wickedness stinks to high heaven. These wicked people who are rotten to the core will suffer for good in the stinking lavatory and dungeons of hell. God is watching with four penetrating eyes!"
I was completely dumbfounded by those revelations, with my sense of inner equanimity and moral innocence shaken to the core. "Who do you refer to as 'these people'?" This planet is an unconscious lavatory indeed.
"These people you are going to work for!"
My heart rate suddenly dropped, or increased. I didn't know which. "So what did you do when you worked for them, these people?"
"Didn't say a word. Simply went with the flow." My friend made a quick check of her wing mirror which looked deceptively out of place. It was actually, so she repositioned it in order to give her a proper view of cars coming from behind hers and those making desperate attempts to overtake her. "They sometimes fed their patients stale and expired food and, to add insult to injury, some staff subsisted on the pantry for clients."
I couldn't understand her. Why then was she complaining now in utmost anger, in uncompromising disgust? It was difficult trying to fathom whether the so-called bystander effect was to blame for her ethical or moral inaction.
What I understood at that moment was that, perhaps, she had simply refused to get embroiled in the hygiene hypothesis of institutional dirt.
My face met hers, this face which had turned into a stifling contortion of boiling anger, when I made a conscious effort to reconstitute the skeletal bulkiness of my deflated ego. I looked away, instead electing to check on our child passenger who seemed to be enjoying the sudden transformation in the charged environ of the speeding car. The child passenger seemed comfortable in his world.
Because I couldn't look away forever, I turned my attention to her again. This time she threw me a faint sardonic smile. I didn't know whether to cry or laugh at the lingering faintness of her sardonic smile. I however did engage her deep-set eyes with the pampering morale of absolute sternness, topping it off with a sense of ingratiating camaraderie directed toward her emboldened self. Then my buccal muscles unleashed my existential floodgates of interrogatory disposition. "What did you do on behalf of the clients?"
"Nothing. Absolutely nothing!"
"What?"
Interesting!
No response. Dead silence. She continued to drive with focused attention.
I didn't know what exactly to make of her seeming intimation of cantankerous taciturnity. I kept quiet though, rather choosing to bury myself in the harrowing stillness of my coffined deflated ego.
She looked straight ahead. Her Heathcliff-esque demeanor did catch me off guard, though.
Then I finally understood. This grinding demeanor was a farewell signal for me to bring down the curtain on our painful conversation about serious questions of moral choice, patient advocacy, free-market capitalism, profiteering, professionalism, corporate responsibility, non-maleficence and beneficence, and patent neglect.
We were in front of my house now.
We waved goodbyes and parted ways.
The element of paralyzing shock was yet to reveal itself.