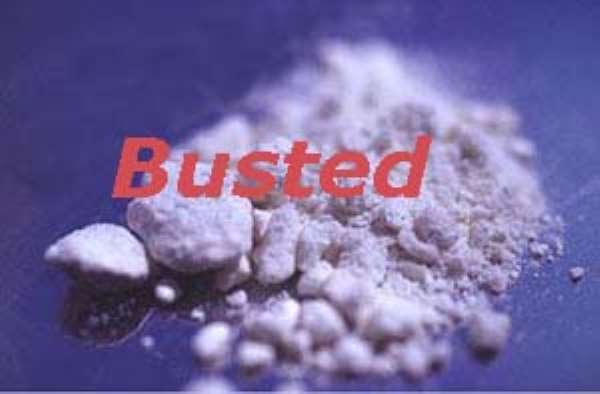 Lens -- Information pieced together by the Lens indicates that when Eric Amoateng, the NPP MP who has been busted in the U.S. received an urgent call two weeks ago from one of his drug contacts asking him to travel to the USA at all cost, he least suspected that the former who has for sometime now been under the watch of the US Drugs Enforcement Administration (DEA) was being used to set him up. Upon arrival on Friday 11th November in the U.S. smartly dressed in what the Lens' scouts describe as a $5000 suit, the MP went straight to his girlfriend's place. The lady aged about 27 years is also reputed to be a ___. A source very close to the MP has confirmed to the Lens that Eric Amoateng often boasted about how they the "official drugs barons" are able to ship any drugs through the Kotoka International Airport by virtue of the fact that they have the backing of the powers that be. According to the source, Eric also explained that 50% and 25% respectively of the amounts realized on any drug shipment that passes through KIA to the USA and Europe and into Ghana through the KIA are paid into designated coffers. The Harbour, according to the source is used to receive drugs from Columbia for onward shipment to the USA. Our source indicates that even on the day of the arrest, Hon. Eric Amoateng had hinted that he would be buying about six Landcruiser vehicles to be used for party activities. Eric Amoateng had similarly warmed himself into the hearts of his constituents by throwing lots of money around and had earned a reputation as a philanthropist back in the Nkoranza area. On the fateful Friday when his luck ran out, Eric is said to have gone to the storage facility with Nii Okai not knowing that agents of the Drugs Enforcement Admistration (DEA) and Immigration and Customs Enforcement were waiting to arrest him. A source close to the U.S. immigration and Customs Enforcement related how when the noose was tightening around his neck, the "Prominent Ghana Government Official" started pleading that he was a member of the Ruling party in Ghana and started disclosing names of Top government officials who are privy to the operations.
The Lens can also confirm that the DEA has in its possession names and numbers of some top officials.
It appears that Eric Amoateng, who had earlier told the arresting DEA agents that his predicament was the work of the devil, is in no mood to go down alone. Like a squealer, Eric is said to be ready to say it all.