Ghana to go Nuclear Power 2029¬─Atomic Energy Boss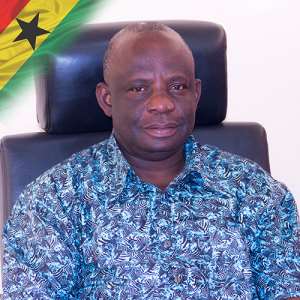 The Director of Ghana Atomic Energy Commission has said the Commission is on course to add nuclear energy to Ghana's generational mix by 2029.
Prof. Benjamin J. B. Nyarko noted that Ghana has made considerable progress in the development of its nuclear power infrastructure since the established of the Nuclear Power Programme Organization (GNPPO).
He added that the GNPPO has established effective mechanisms to involve a wide range of national stakeholders in undertaking relevant activities.
According to him, the activities of the GNPPO resulted in the Integrated Nuclear Infrastructure Review mission in 2017.
He said this at the behest of the Deputy Minister of Energy in charge of Power, Hon. William Owuraku Aidoo who paid a working visit to the Ghana Atomic Energy Commission (GAEC) to be acquainted with the progress of work done towards Ghana's efforts in generating nuclear energy.
The entourage visited the Research Reactor Centre and Accelerator Centre where they were briefed on the functions of each of the facilities.
The mission is part of efforts to evaluate the status of the 19 nuclear infrastructure issues and was undertaken by the International Atomic Energy Agency (IAEA).
Background
For decades, Ghana's economy has been fueled by abundant inexpensive hydropower. As a developing economy, Ghana's electricity demand has long been relatively low, though rising in recent times due to increasing economic growth, urbanization and industrial activities. However, the rapid demand growth, as well as periodic hydrological shocks, leaves the country increasingly reliant on expensive oil and gas-based generation power plants, with a resultant drain on the national economy (Gyamfi, Modjinou, and Djordjevic 2015).
In an attempt to find lasting solution to power issues, the Ghana Nuclear Regulatory Bill was passed into an act in August, 2015 (Nuclear Regulatory Authority Act, 2015, Act 895).The objects of the act establishes the Ghana Nuclear Regulatory Authority with clear functions and responsibilities and to provide for the beneficial and peaceful uses of nuclear energy.
Parliament has also ratified some relevant international conventions, such as the Convention on Early Notification of a Nuclear Accident, Convention on Assistance in the Case of a Nuclear Accident or Radiological Emergency and the Convention on Supplementary Compensation for Nuclear Damage. In addition to this, Ghana has achieved successes in all the 19 issues to be considered prior to the commencement of the operation of a Nuclear Power Programme (NPP).
According to a report by Daily Graphic in May 2018, estimates show that, the first two plants could be operational in the next five to six years, with the capacity to produce some 2,400 megawatts (MW) of electricity and each plant could cost between US$5 and US$6 billion.
In as much as nuclear energy offer opportunities to grow greener economies, and provides a cheaper and sustainable alternative to other sources of power for both domestic and industrial uses, there are some concerns. Some of these concerns include: waste disposal including radiation protection, importation of uranium (which may have economic implications and also deepen the country's import dependence), security (areas of nuclear activities are of interest to insurgents), poor maintenance culture as a country which may compromise safety, whether the quest for nuclear energy is a shared national position now, stakeholder involvement, site selection and supporting facilities.