Why There Is No Ghanaian Leader Qualified To Polish The Shoes Of Kwame Nkrumah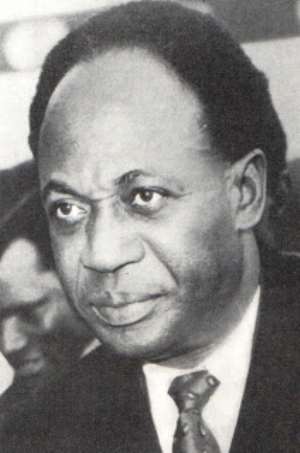 This article will painstakingly explain why there is no Ghanaian leader qualified to polish the shoes of the great Ghanaian leader, Kwame Nkrumah, who was betrayed by Ghanaians and with the help of America's CIA, kicked out from power on his way to China in 1966, let alone any Ghanaian leader after Nkrumah will try to alter Ghana's constitution in favour of a political party.
I have burning ambitions, but not interviewing an African leader, which is a waste of precious time. However, if I could get leisure time and 'face to face' with any Ghanaian leader, I will ask him: If he has read any of the books written by Kwame Nkrumah.
The answer will give me ample information to know. Because Ghanaian leaders did a mistake by collaborating with foreign powers, such as the United States of America and Britain to destroy Africa in such a manner without any apology.
And from every angle, I can clearly see and support other opinions of great minds that apart from corruption, lack of reading has played a significant role in the downfall of the African continent.
What was the purpose for independence in colonial Africa? Why Nkrumah didn't seek Ghana's interest alone in his fight for independence but encouraged all African leaders that time? Why was Nkrumah branded a dictator when Ghana was better under his administration than this present carnage? Why Afrifa and his supporters alone couldn't overthrow Nkrumah but depended on the CIA?
Ghanaian leaders will get answers to all the questions above if any of them will beat his chest and swear that I have read all the books of Dr. Kwame Nkrumah. Because reading the books of Nkrumah will have given them the essential common sense to rule Ghana without depending on foreigners powers which Nkrumah wrote about the destructive plans they had for Africa.
No European and American leader like an intelligent African leader, the reason Kwame Nkrumah suffered dearly for his beloved Ghana but it's easy to get the stupid African leaders, the reason after colonialism and Apartheid Africa has been struck by Aids and Ebola because our current leaders lacked the knowledge and vision Nkrumah had to know the doom that will strike Africa one day to ruin our economy beyond remedy.
Yet, easy penetrable mind Ghanaians are happy because the International Monetary Fund (IMF) boss, Ms. Christine Lagarde has praised Ghana, claiming the economy is better under Akufo Addo's government, without Ghanaians realizing that this was just a promotional statement to consider voting for Nana Akufo Addo for his second term in office.
Who is qualified to polish the shoes of Nkrumah when no Ghanaian leader listened to his warnings in his books? It's only the sick in the mind people who will say that Ghana is now better than the days of Kwame Nkrumah.
Even though the technology wasn't ripe yet, our parents had much comfort than the present Ghana which many parents are losing precious sleep because of economic psychological torture.
There is no African or Ghanaian leader who will claim loves Ghana or Africans when foreign powers like the US government will deliberate kill Africans or Ghanaians with biological weapons such as Aids and Ebola without a word. This will never be the same with any African leader accused of such medical genocide.
During my school days in Ghana, I used to hear a proverb I do like very much which says: "If you want to eat with a king then you need to wash your hand or hands well," if only I am right, therefore, if African or Ghanaian leaders want to be respected they must begin to act, think and show love to Ghanaians like human beings.